A Chinese map published in 1904 reveals that the Hoang Sa (Paracel) and Truong Sa (Spratly) Archipelagos did not belong to China.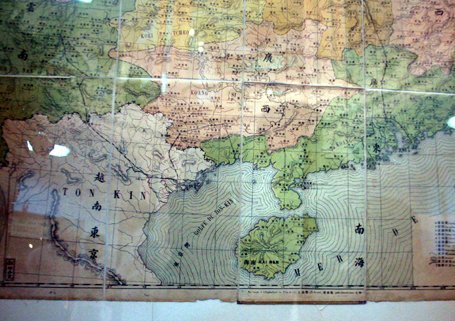 According to the Map of all Chinese provinces map, printed by Shanghai Publishing House in 1904, China stretches as far south as Hainan Island.
Purchasing the map from an elderly man in 1977 Dr. Mai Hong, former head of the Library of the Institute for the Study of Chinese and Demotic Scripts and Cultures, translated into Vietnamese that adequately represents the origin and date of the map.
The map was drawn in the Han (Chinese) scriupt across nearly two centuries (1708 – 1904), from the Kangxi Emperor who ruled China from 1661 – 1722 to the Guangxu Emperor from 1875 – 1908, Hong said.
The emperors asked many clergymen and gifted astronomers and mathematicians to make this map, he said, adding that in 1708, King Kangxi recruited some western clergymen to draw the map of the Great Wall.
In 1711, the King continued to ask the clergymen to survey lands in 13 provinces nationwide. After that, Chinese intellectuals and western clergymen worked together for nearly 200 years to finish this map.
Among the western clergymen were Matteo Bicci from Italy, Joannes Adam Schall Von Bell from Germany, and Ferdinandus Verbiest from Belgium, Hong says.
In 1904, the Shanghai Publishing House printed this map and distributed it to all provinces of the Qing Dynasty, the last imperial dynasty of China ruling from 1644 to 1912. The introduction of the map was written by the director of a Chinese observatory.
According to Pham Hoang Quan, a local researcher on Han-Chinese and Demotic Scripts, the map, measuring 115cm long and 140cm wide, was printed on separate sheets and belonged to a group of large-scale maps.
The map's accuracy in terms of longitude and latitude is nearly on a par with modern maps. This map was made by experts at the Observatory of the Qing Dynasty, so it can be considered official, he said.
On July 4, Dr. Mai Hong contacted the National Museum of Vietnamese History to hand over the map for display and preservation.
VOV