VietNamNet Bridge – Vietnam welcomed San Francisco's landmark verdict against Monsanto and called upon the company to pay compensation for Agent Orange victims in Vietnam, deputy foreign ministry spokesperson Nguyen Phuong Tra told a press briefing in Hanoi on Thursday.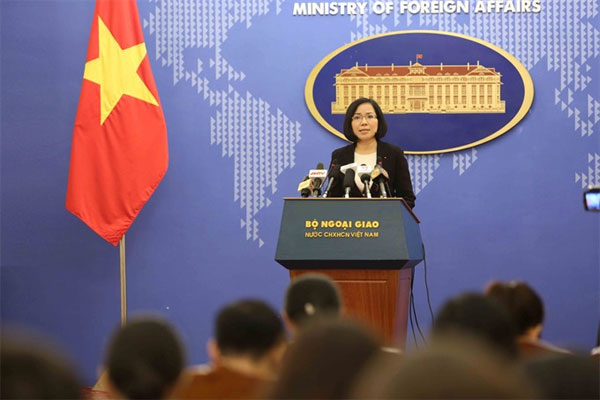 Deputy foreign ministry spokesperson Nguyen Phuong Tra responded to questions from the media during a press conference held in Hanoi on Thursday. — VNA/VNS Photo Duong Giang
"The verdict serves as a legal precedent which refutes previous claims that the herbicides made by Monsanto and other chemical corporations in the US and provided for the US army in the war are harmless," Tra said in response to the media's queries on the Vietnamese Government's reaction to the decision by a US court asking that Monsanto pay US$289 million to an American citizen who claimed that the company's weed killer contained undisclosed carcinogens.
"Vietnam has suffered tremendous consequences from the war, especially with regard to the lasting and devastating effects of toxic chemicals, including Agent Orange," Tra said, referring to a heavily controversial herbicide and defoliant manufactured by the Missouri-based agrobusiness multinational and used extensively by the US Army during the war in Vietnam in the 1960-70s, which have shown links to widespread illnesses and birth defects among those exposed to it.
Up to 80 million litres of herbicides were sprayed over an area comparable to one fourth of southern Vietnam, destroying the natural environment and leaving three million Vietnamese grappling with health issues.
South China Sea
Responding to press queries on the Vietnamese Government's reaction to Chinese Taiwan's live fire drills in Ba Binh (Itu Aba) island as well as allegations of Chinese deployment of nuclear weapons in the South China Sea, the foreign ministry official reaffirmed Vietnam's full legal and historical evidence for its sovereignty claims over the Truong Sa (Spratly) archipelago.
Vietnam protests any act that disrupts peace and stability and complicates the situation in the South China Sea (called East Sea by Vietnam), and demands the offending parties cease and not repeat such actions in the future, deputy spokesperson Tra said.
"Maintaining peace, stability, maritime security and overflight freedom are mutual responsibilities and duties of all countries in the region and in the world. All concerned parties have the obligation to contribute to these causes," Tra said. Earlier yesterday, the government of the Philippines expressed concerns over 'US observation' on alleged possible introduction of nuclear weapons in the South China Sea, and stressed that the region is a nuclear-free zone.
On whether the recent arrests of anti-State criminals, which include American citizens and Vietnamese citizens, would affect the relationship between the two countries, Tra said that any person, no matter their citizenship, who violate Vietnamese law within Vietnamese territory would be subject to appropriate legal punishments.
Concerning the ongoing trial against Doan Thi Huong, who allegedly murdered the Democratic People's Republic of Korea (DPRK) citizen Kim Chol, the Vietnamese Embassy in Malaysia has said Hương is supposed to defend herself in front of the court on three occasions in January and February next year.
The Vietnamese Embassy is currently working with Huong's lawyers to prepare her defence, and is willing to help Huong's family in Vietnam to come to Malaysia should they wish, Tra said.
Source: VNS