VietNamNet Bridge – When they agreed to join the UN Peacekeeping mission in South Sudan, 73 Vietnamese officers knew they would have to leave behind their families to travel to the war-ravaged country. The 10 female officers on the mission, which will leave Vietnam later this month, play an especially critical role, as Muslims in South Sudan strongly prefer to be treated by doctors of the same gender.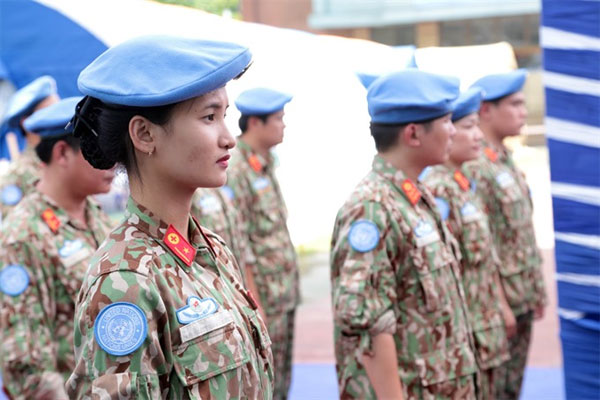 A female medical officer of the field hospital level 2, the first Vietnamese delegation to take part in the United Nations peacekeeping mission in South Sudan.
But because the female officers also shoulder outsize duties in their homes as wives and mothers, answering the call of international duty to provide healthcare for South Sudanese women required weighing the potential effects on their families in Việt Nam.
Four years ago, Major Bùi Thị Xoa did not find the decision to become a "blue helmet" nurse an easy one. She spent much time deliberating whether to go on a year-long mission in a foreign country, as her teenage son is in his formative years and she wanted to be with him to take care of him and give him guidance.
Her sympathetic husband, also a military officer, encouraged her to join the mission. Finally, Xoa decided to put country and service first, in line with the duties of a soldier.
Born in 1975, Xoa is one of the earliest and oldest members of the field hospital level 2 No.1 mission to South Sudan.
Years after the first day of training, Xoa still vividly recalls the initial struggles.
"My biggest limitation was foreign language fluency, especially pronunciation, so I needed to put in extra effort to catch up with other staff at the hospitals," she said.
"At this age, it's not easy to learn another language, and then with so many examinations in quick succession, I felt like I was haunted by the English language, which wouldn't let loose its grip even in my dreams," Xoa said with a laugh.
In the first year of training, she travelled nearly 60km each day, back and forth from her home in Biên Hoà City of Đồng Nai Province to the Military Hospital 175 based in HCM City.
The travel time, coupled with intense and prolonged training schedule left her no time to take care of her family. Her absence "turned it upside down," as in Việt Nam most home matters are undertaken by women, even though women also participate in the work force at one of the highest rates in the world.
The situation became untenable and eventually her family decided to move to HCM City.
"In the beginning, my son seemed unable to adapt to the new environment, his new school, and I was really worried, but now, things have settled and I can now go on with my mission," Major Xoa said.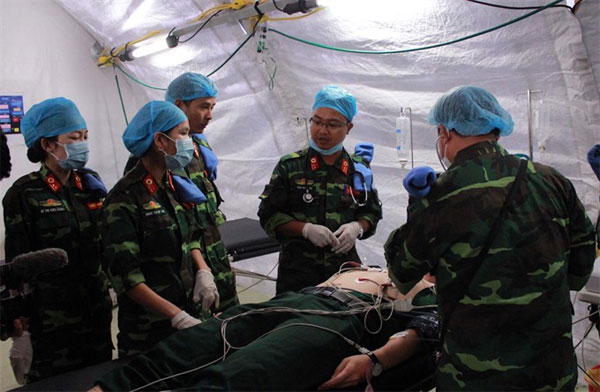 Medical officers of the field hospital level 2, the first Vietnamese delegation to take part in the United Nations peacekeeping mission in South Sudan, during a medical training class. 
Senior Lieutenant Pham Thi Thu Trang, the maternity nurse for the field hospital, had a much harder decision to make.
Long before she departed for South Sudan, her four years of training in HCM City required her to entrust her nine-year-old daughter to her parents in the central province of Quang Binh.
"Sometimes, after a day of uninterrupted exercise in the scorching heat, I missed my daughter so much I barely had any sleep, but I told myself to soldier on," Trang said.
Luckily, her daughter was not causing much trouble for her octogenarian grandparents.
"Without my parents' support, I don't think I could make it," Trang said.
Major General Nguyen Hong Son, Director of the Military Hospital 175, said that originally, there were only five female officers in the South Sudan mission. But to meet the demands for medical care not only of the UN Peacekeeping mission, but also for the local people, who are mostly Muslim, the UN sought more female officers in the field hospital to treat women.
 "In the 10 female officers in this mission, four have married and have young children, but they have sacrificed all that to serve their duties, this deserves the highest respect," Son said.
All members of the mission struggled with the difficult conditions in the field.
For Junior Lieutenant Phan Thi Van Huyen, the physically taxing hours of intense training in 38 Celsius degree weather were the most memorable challenge.
Huyen, together with two other new members, began training a little over a year ago, so she had to play catch-up with the other mission members who had started preparing years earlier.
Besides the intensified exercises for the newcomers to quickly catch up with old members, Huyen felt the need to improve her stamina by running and going to the gym outside of official training hours in anticipation of the heat, literally and figuratively, in the African deserts.
"Profuse sweating today means less bloodshed tomorrow" is a frequent joke and a motivational slogan shared between the hospital's medical officers.
"I couldn't believe that I would one day hold a gun, let alone fire it, so I trembled terribly at first, but now I actually aced the tests," Van Huyen said with a wide smile.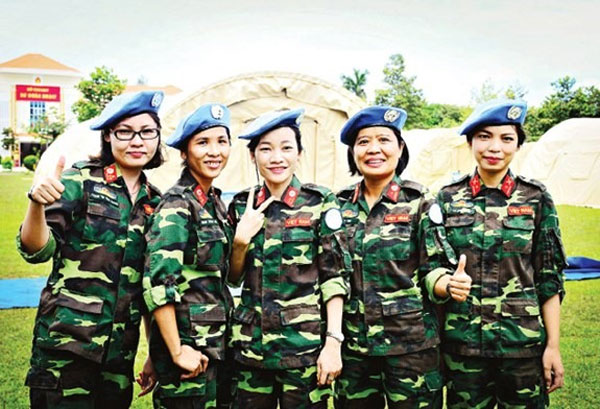 Female medical officers of the field hospital level 2, the first Vietnamese delegation to take part in the United Nations peacekeeping mission in South Sudan. — VNA/VNS Photos Nguyen Xuan Khu
Cultural ambassadors
Aside from their professional role, the officers of the South Sudan mission also act as ambassadors of Vietnamese culture to an international audience.
"It's not just medical expertise or survival skills that are required, the medical officers are also versed in folk tunes and traditional dances, as well as Vietnamese dishes," Director Son told Vietnam News Agency.
The luggage of Vietnamese female medical officers to South Sudan contains the colourful presence of several ao dai, the traditional long dress, and ao tu than, the four-piece top, with patterns of recognisable Vietnamese features such as the bronze drums and lotus.
Practising traditional Vietnamese dishes was an enjoyable part of the female officers' experience before leaving South Sudan.
The title of most skilled cook went unanimously to the "big sister" Bui Thi Xoa, whose expertise in several traditional dishes and knowledge of helpful tips on cooking surpassed all others.
Senior Lieutenant Bui Thi Hoai Thu's specialty in making the simple but unique southern traditional cake banh xeo came in handy.
Senior Lieutenant Pham Thi Thu Trang meanwhile picked up the title of fastest and most skilled in wrapping the traditional chung cake.
"We will be having our Lunar New Year celebration in Africa, so I want to excel in making this particular cake, both to help alleviate my team's nostalgia, and to introduce it to friends from other countries," Thu Trang said.
 "To stand amongst the UN Peacekeeping force is a proud milestone. There are challenges ahead, but I'd consider the trip an achievement thanks to the continued efforts by all members of the team for the last three to four years," Thu Trang said.
Hoai Thu, a medical professional and long-time admirer of the peacekeeping soldiers before she became one herself, said, "I am proud to wear this blue beret, a symbol of peace, and cannot wait for the day to raise the Vietnamese flag of red and yellow stars in South Sudan."
Source: VNS