Prime Minister Nguyễn Xuân Phúc on Thursday praised the contribution of foreign non-governmental organisations (NGOs) to Việt Nam's economic and social development, with US$4.3 billion of aid poured into the country over the last two decades.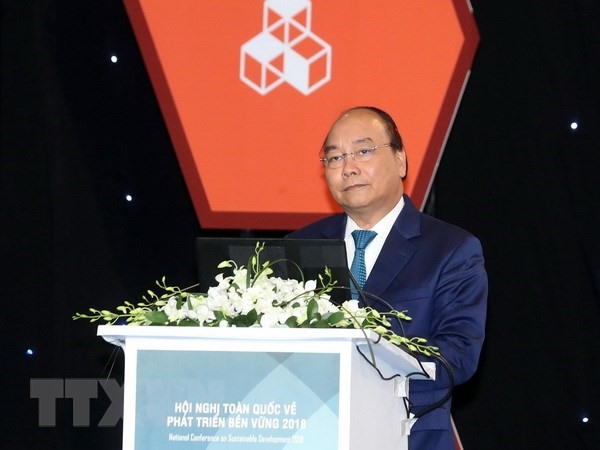 Prime Minister Nguyễn Xuân Phúc speaks at national conference on sustainable development on July 5 in Hà Nội.
According to the Government's Committee for Foreign NGOs Affairs, Việt Nam established relations with more than 1,000 overseas NGOs. The 500 most active in the country support over 3,000 programmes and projects.
Those NGOs were active in several sectors in which Việt Nam is seeking assistance, such as health, education, economic development, social affairs and environmental protection, reported the committee. Their projects "helped to resolve urgent issues of the people in underdeveloped areas, raise the capability of the officers as well as the residents, transfer advanced technology and promote understanding and relations between Vietnamese people and international friends."  
Speaking at the conference, PM Phúc said that the NGOs also played an active role in assisting Việt Nam with international integration and introducing Việt Nam's image and achievements to the world.
As Việt Nam encouraged the activities of foreign NGOs in the country, localities should bear in mind that co-operation with NGOs is an important task, said Phúc.
"All co-operation programmes, plans and projects with foreign NGOs should be considered on three dimensions: economic, security and external affairs," he told the conference.
The Committee for Foreign NGOs Affairs, meanwhile, should conduct research and assessments to forecast the operation of the NGOs in the world and in Việt Nam in particular. That will help them advise the PM more effectively, especially in addressing anti-State activities disguised as NGOs' work to cause social disruption.
Phúc also asked the committee to propose a new co-operation model with foreign NGOs in order to develop a national programme on co-operation with NGOs. — VNS