Communist Party of Vietnam official pays working visit to China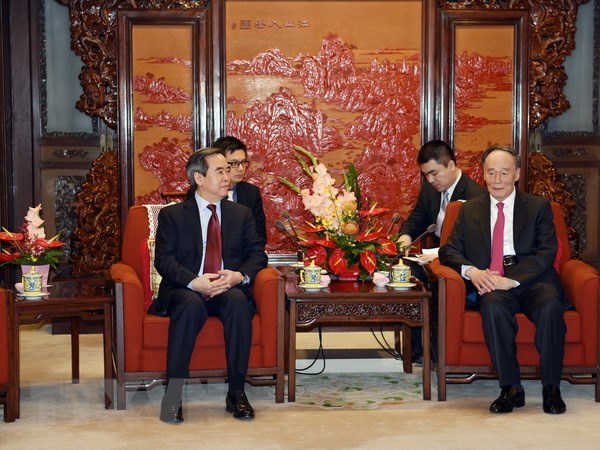 Nguyen Van Binh, Politburo member of the Communist Party of Vietnam (L) meets Chinese Vice President Wang Qishan in Beijing on April 17. 
The Vietnamese Party, State and people always attach much importance to and want to join hands with their Chinese counterparts to consolidate the traditional friendship and comprehensive strategic cooperative partnership with China, said Nguyen Van Binh, Politburo member of the Communist Party of Vietnam (CPV).
Binh, who is also Secretary of the CPV Central Committee and Head of the CPV Central Committee's Commission for Economic Affairs, made the statement while meeting with Chinese Vice President Wang Qishan in Beijing, China, on April 17.
He suggested both sides continue carrying out the common important perceptions of senior leaders of the two Parties and nations as well as already-signed documents, maintain and increase high-level meetings, and improve efficiency of practical cooperation in various fields.
On this occasion, Binh congratulated China on successfully organising the first session of the 13th National People's Congress and the 13th National Committee of the Chinese People's Political Consultative Conference. He expressed his hope that under the leadership of the Communist Party of China (CPC), the Chinese people will realise the targets set by the 19th National Congress of the CPC.
The Vietnamese Party official also congratulated Wang on his election as Vice President of China.
For his part, Wang affirmed that the Party, Government and people of China always treasure ties with Vietnam and stands ready to join hands with the Party, State and people of Vietnam to develop the bilateral relations.
He wished that the two sides will continue to exchange high-level delegations, consolidate political trust, promote strategic connections and well control differences in an effort to develop relations between the two Parties and nations in a stable and healthy manner in the coming time.
During his stay in Beijing, Binh had meetings with officials of the Central Policy Research Office, Development Research Centre of the State Council and State-owned Assets Supervision and Administration Commission. 
At these meetings, the two sides shared measures to boost reform, innovation, global integration and socio-economic development in each country.
Binh is leading a CPV delegation on a working visit to China from April 15-19 at the invitation of the CPC's Central Committee. Apart from Beijing, the delegation will also visit Shanghai.
Russian oblast ready to facilitate Vietnamese firms' investment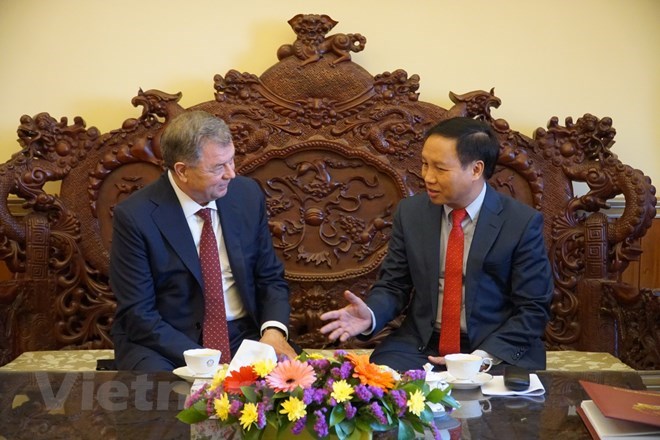 Governor of Kaluga Oblast Artamonov Kaluga Anatoly Artamonov (L) and Vietnamese Ambassador Ngo Duc Manh 
Russia's Kaluga Oblast is willing to give incentives and help Vietnamese enterprises invest in the region, a local official has said.

Governor of Kaluga Oblast Artamonov Kaluga Anatoly Artamonov made the statement during a working session with representatives from the Vietnamese Embassy in Russia on April 16.

Artamonov, head of the Russian region that has the largest cooperation project with Vietnam in a dairy factory invested by TH True Milk, informed Vietnamese Ambassador Ngo Duc Manh about the progress of the project. 

The two sides exchanged views on the progress of the project and discussed measures to remove difficulties for enterprises.

Artamonov said the region has provided favourable conditions for Vietnamese firms, but issues related to procedures for Vietnamese labourers to work in the plant must be solved at the government level. 

For his part, Ambassador Manh thanked Kaluga's officials for their aid for Vietnamese enterprises and labourers, affirming that the embassy will help Vietnamese businesses expand in Russian. 

He proposed and Artamonov welcomed Manh's idea of establishing a cooperative relationship between Kaluga and a Vietnamese locality. 

In an interview with Vietnam News Agency's correspondents in Russia, Artamonov said that through his visits to TH True Milk's project, he admired technologies that the Vietnamese side has prepared for the project.

He expressed his belief that when investing in Russia and in Kaluga in particular, the dairy enterprise is capable of supplying not only to the Russian market but also other markets.

Kaluga has preferential policies to make it easy for Vietnamese enterprises to invest in Kaluga, he affirmed.

Vietnamese workers can also find job opportunities in garment and agriculture businesses in Kaluga with good wages, he noted. 

Cooperation between the Vietnamese side and Kaluga is now more convenient as the railway from Kaluga to China has been cleared. Kaluga is currently supplying poultry to Vietnam, and is considering the possibility of cooperating with Vietnam in raising poultry in the country.

Shrimp farming is another cooperative direction that Artamonov suggested to Vietnamese enterprises in the context that Vietnamese enterprises are having difficulties in exporting shrimp to Russia.

HCM City, Greece's Edessa city seek stronger cooperation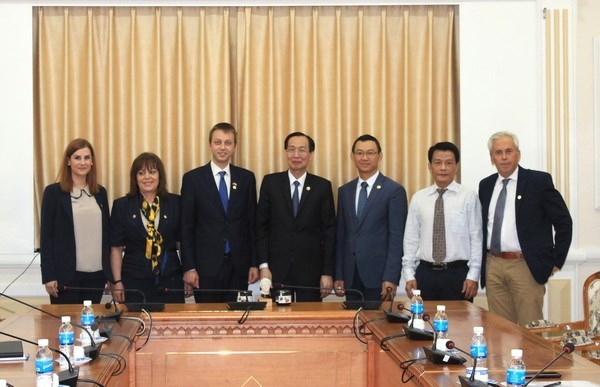 Le Thanh Liem, Vice Chairman of the HCM City People's Committee (middle), and the Greek guests. 
Ho Chi Minh City has suggested Greece's Edessa city increase activities to connect businesses of the two localities, as well as trade promotion programmes.

Le Thanh Liem, Vice Chairman of the HCM City People's Committee, made the suggestion at a reception for a delegation of three vice mayors of Edessa city on April 16. 

He emphasised the trading of farm produce between the two sides, focusing on cherry from Edessa and coffee and dragon fruit from HCM City. 

HCM City always pays attention to reinforcing cooperation with foreign partners, including Greece, the official said, noting that the city is willing to create the best possible conditions for Greek firms, including those from Edessa, to invest in the city. 

HCM City also stand ready to intensify information sharing, exchange between businesses of the two cities and trade promotion in such areas as tourism and culture, Liem added. 

Anastasious Diou, head of the delegation, said as the first Greek locality to organise a working trip to Vietnam, Edessa wants to establish the friendship with Vietnamese localities, including HCM City. 

The Greek side hopes that following the trip, there will be more exchange activities in culture, trade and investment between Edessa and HCM City and other localities of Vietnam, he said. 

He called on leaders of HCM City to create favourable conditions for cooperation between both sides' businesses, particularly in potential areas like fruit and tourism. 

He also committed to facilitating the friendship and cooperation between the two localities in the time ahead.

Vietnam treasures ties with Russia: Vice NA Chairman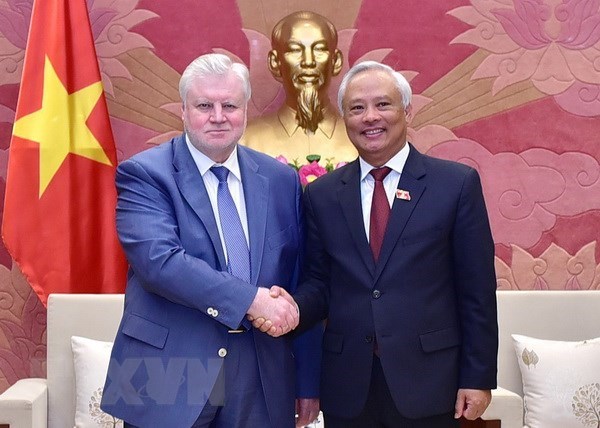 Vice Chairman of the National Assembly Uong Chu Luu (right) and head of the Just Russia party Sergey Mikhailovich Mironov 
Vietnam always treasures and wishes to enhance the fruitful relationship with Russia, for pragmatic interests of both sides, said Vice Chairman of the National Assembly Uong Chu Luu. 

At a reception for head of the Just Russia party Sergey Mikhailovich Mironov in Hanoi on April 16, Luu said leaders and parliamentarians of the two countries have regularly held meetings and supported each other's viewpoints on issues of shared concern. 

Applauding contributions made by parliamentarians from the Just Russia party and Mironov to consolidating and promoting the bilateral relations, the Vietnamese official urged them to work harder to foster the ties across fields, especially in economy and trade, in order to soon bring two-way trade to 10 billion USD. 

He took the occasion to call for support for the Vietnamese community in Russia. 

In reply, Mironov highlighted the thriving economic links, along with cultural and tourism cooperation between Vietnam and Russia. 

He congratulated Vietnam on successfully hosting the 26th Annual Meeting of the Asia-Pacific Parliamentary Forum (APPF-26) last January. 

Stressing similar views shared by Vietnam and Russia on international issues, Mironov noted his hope that his visit will help intensify the friendship between the two countries.

Vietnam, Japan audit agencies urged to lift cooperative ties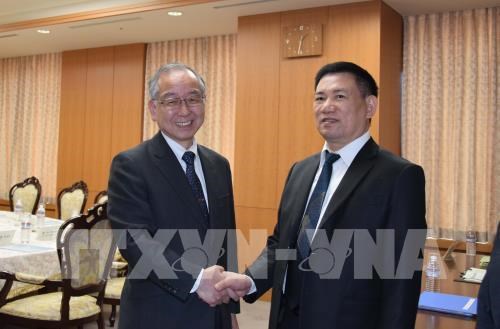 President of the Audit Commission of Japan Teruhiko Kawato (L) and Auditor General of the State Audit Office of Vietnam Ho Duc Phoc  in a recent meeting in Japan
President of the Audit Commission (AC) of Japan Teruhiko Kawato has suggested Vietnam and Japan elevate bilateral audit cooperative relations to a new height. 

In a recent interview granted to Japan-based Vietnam News Agency (VNA) correspondents, Kawato highlighted the close cooperation between the AC and the State Audit Office (SAV) of Vietnam and their efforts to urge audit agencies in Asia to enhance international links.

According Kawato, the AC and the SAV has built close cooperative ties, and Vietnam's economy is strongly developing, especially in infrastructure development – a crucial field of the auditing activities.

He stressed that the collaboration between the two agencies through capacity development and research activities has proven effective and the partnership should be developed to a new level.

Kawato expressed his belief that Vietnam, as the Chair of the Asian Organisation of Supreme Audit Institutions (ASOSAI) for the 2018-2021 tenure, will successfully host the 14th Assembly of ASOSAI in September 2018. Japan, as the Capacity Development Administrator of ASOSAI, will strongly support Vietnam, he affirmed.

During the interview, Kawato also emphasised that ASOSAI aims to promote cooperation and mutual understanding among its member supreme audit institutions (SAIs) through sharing experience and knowledge in financial supervision. 

The organization has also worked to enhance the quality of auditing activities through bettering auditors' capability and supporting member SAIs, he added. 

The AC President also highlighted the increasingly important role of audit institutions, saying that ASOSAI wants to make effective contributions by improving its member audit bodies' capacity after studying their needs.

Kawato said that in order to develop the economy smoothly, transparency and accountability of administrative agencies are indispensable, and auditing bodies are responsible for assuming this important role.

Can Tho ceremony marks 45 years of Vietnam-France ties
Le Van Tam, Vice Chairman of Can Tho People's Committee (R) presens a gift to Vincent Floreani, French Consul General in Ho Chi Minh City at the ceremony (Source: baocantho.com.vn)
A ceremony was held in the Mekong Delta city of Can Tho on April 15 to mark the 45th anniversary of the Vietnam-France diplomatic relations (April 12).

Addressing the event, Le Van Tam, Vice Chairman of the municipal People's Committee said that during the past 45 years, the friendship and cooperation between Vietnam and France have been expanded in many areas, including economics, culture, education-training, and science-technology.

The Vietnamese Government has always paid great attention to developing ties with France, one of its prioritised partners in Europe, he noted.

He also underscored that Can Tho has maintained and strengthened the teaching of French in schools, while adding optional subjects related to tourism and trade within relations with France to higher education training programmes. 

Currently, Can Tho is hosting five French-funded projects worth about 5.3 million USD.

Vincent Floreani, French Consul General in Ho Chi Minh City highlighted the significant meaning of the celebration of the 45th anniversary of the Vietnam-France diplomatic relations, which he described as a good opportunity to introduce French culture to Vietnamese friends, thus contributing to strengthening the solidarity, friendship and mutual understanding between people of France and Vietnam as well as Can Tho in particular.

The diplomat pledged to encourage more investors, art troupes and tourists of France to visit Can Tho and seek partnership in the locality's prioritised sectors such as infrastructure construction, transportation, health care, education and tourism.

France will also create optimal conditions for closer connection between the two sides in producing and exporting agricultural products to France.

Along with French food and publications, participants at the event had a chance to enjoy circus performances from Be Clown art troupe of France.