Vietnam values strategic cooperative partnership with RoK
Deputy Prime Minister and Foreign Minister Pham Binh Minh (R) receives out-going RoK Ambassador to Vietnam Lee Hyuk 
Vietnam attaches special importance to developing its strategic cooperative partnership with the Republic of Korea (RoK), Deputy Prime Minister and Foreign Minister Pham Binh Minh has told out-going RoK Ambassador to Vietnam Lee Hyuk. 
During a reception for the RoK diplomat in Hanoi on April 10, Minh affirmed that Vietnam is willing to work with the RoK to effectively implement the common perceptions reached by the two countries' high-ranking leaders.
The two nations will ceaselessly expand and deepen cooperation across fields including economy, trade, investment, tourism, labour, sci-technology, culture, education and people-to-people exchange, towards lifting the bilateral relations to a new height. 
He expressed his belief that with his experience and deep understanding of Vietnam, Lee will continue to effectively contribute to reinforcing the friendship and cooperation between the two countries. 
In reply, Lee thanked the Vietnamese Foreign Minister and his ministry for supporting and creating all possible conditions for him to fulfill his duties in Vietnam. 
He affirmed the RoK always treasures its relations with Vietnam, promising that in his new position, he will continue efforts to elevate the Vietnam-RoK strategic cooperative partnership in the future.
Vietnam willing to further medical cooperation with Denmark: PM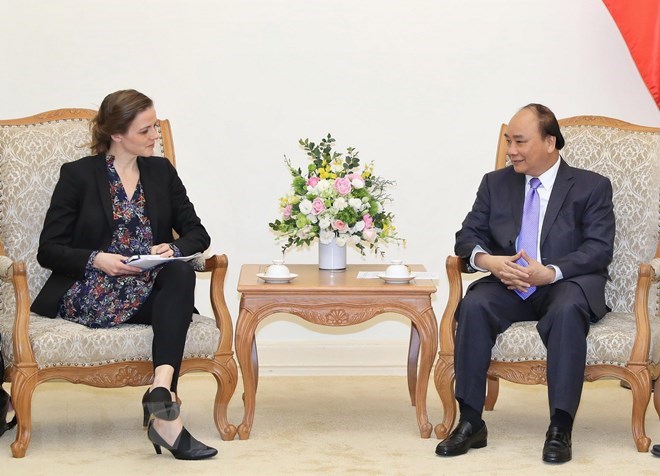 Prime Minister Nguyen Xuan Phuc and his Danish guest Ellen Trane Norby
The Vietnamese Government always pays due attention to health care and stands ready to continue cooperating with Denmark in medical technology and profession to modernise health care system and improve living quality, said Prime Minister Nguyen Xuan Phuc.
Holding a reception for Danish Minister of Health Ellen Trane Norby in Hanoi on April 10, PM Phuc hoped to receive further support from Denmark in the prevention of non-infectious diseases like diabetes, cardiovascular and high blood pressure as well as in medical personnel training.
Lauding the northern European country's achievements in managing and providing comprehensive public health care as well as mobilising the involvement of private sector, the leader hoped that Denmark will share its experience with Vietnam and endorse Vietnam in information technology application in the medical sector.
Ellen Trane Norby, for her part, affirmed that Denmark is willing to help Vietnam in health care and food safety research.
Denmark holds strengths in cancer prevention, control of diabetes and many other non-infectious diseases, she said, hoping that both sides will have deeper cooperation in the fields.
Ambassador backs entrepreneurship of Vietnamese youths in US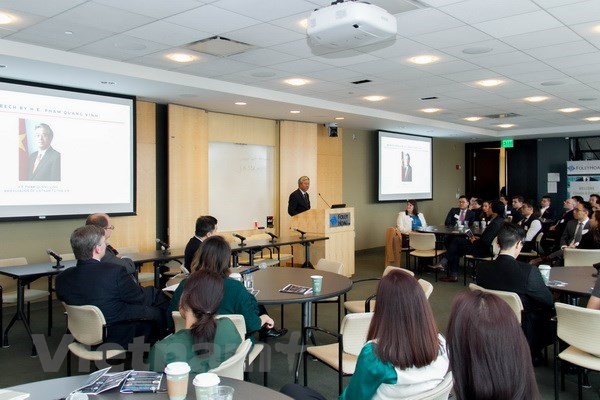 Vietnamese Ambassador to the United States Pham Quang Vinh speaks at the workshop 
Vietnamese Ambassador to the United States Pham Quang Vinh has expressed support for the entrepreneurship of Vietnamese students in the US during a recent working trip to Boston, Massachusetts.
On April 7, the diplomat attended the final of the start-up competition VietChallenge 2018, organised by the Association of Vietnamese Students and Professionals in the US. The event also saw the presence of Vietnamese Consul General in Houston Luong Quoc Huy, representatives of the Vietnamese Permanent Mission to the UN, along with sponsors of the competition.
Opening the event, Vinh spoke highly of the development of the Association of Vietnamese Students and Professionals in the US and VietChallenge in recent years, noting that they have not only supported students but also encouraged talents and had many activities turning their hearts towards the homeland.
He expressed his pride and belief in the enthusiasm, talent and creativity of young Vietnamese, calling on overseas youths and start-ups of Vietnam to maintain solidarity and make more contributions to the homeland's development as well as Vietnam-US relations.
The ambassador said he was happy to see that VietChallenge, first held in 2016, has become an annual competition attracting not only young Vietnamese in the US but also those from Vietnam and other countries. Vinh affirmed that the Vietnamese Embassy and he will continue supporting these meaningful activities.
This year's competition drew a record of 201 teams from 17 countries and territories. After three rounds of competition, team VIoT became the winner with a project on building smart urban lighting system, pocketing a cash prize of 25,000 USD.
Also on April 7, Ambassador Vinh attended a Vietnam-US investment workshop hosted by law firm Foley Hoag and VietChallenge. 
Addressing the workshop, he highlighted great strides in multiple spheres of the two countries' relations since their ties were normalised in 1995 and lifted to the level of comprehensive partnership in 2013. 
The diplomat updated US businesses and Vietnamese start-ups about the development of the bilateral relations recently, especially a visit to the US by Vietnamese Prime Minister Nguyen Xuan Phuc in May 2017 and a trip to Vietnam by US President Donald Trump in November 2017.
He also informed the participants about the improvement of the investment climate in Vietnam, expressing his hope that US investors and Vietnamese start-ups will harvest more successes in both Vietnamese and US markets.
The diplomat affirmed that Vietnam's representative agencies in the US are always ready to assist investors and enterprises of both nations in their economic, investment and business cooperation.
At a working session with the Association of Vietnamese Students and Professionals in the US, Vinh appreciated their efforts and creativity. He and other participants also discussed orientations for activities of the association and young Vietnamese people in the US in the time ahead.
Reports weighing achievements and shortcomings in Party building discussed: Party Secretariat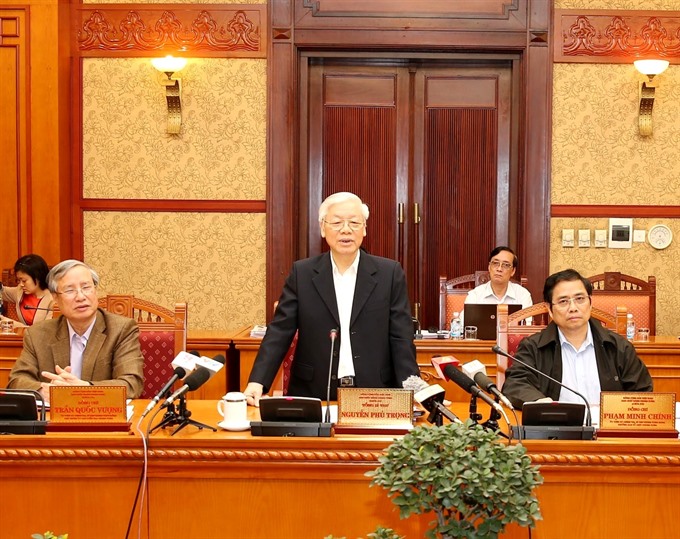 General Secretary of the Communist Party of Việt Nam Nguyễn Phú Trọng (standing) chaired yesterday's meeting of the Secretariat of the Central Committee of the Communist Party of Việt Nam to discuss reports regarding the implementation of reform measures in Party building and implementing Hồ Chí Minh thought in 10 provincial governments and central agencies. 
The Secretariat of the Central Committee Communist Party of Việt Nam saw positive results regarding reform measures in Party building and Hồ Chí Minh thought in 10 provincial governments and central agencies, after the body's top working group concluded inspections.
Reports on performance in Party building and Hồ Chí Minh thought codified in the Party Central Committee's Resolution and Politburo's Directive 05 were reviewed in the meeting held yesterday and chaired by Party General Secretary Nguyễn Phú Trọng.
Political and ideological education were prioritised by Party branch leaders and Hồ Chí Minh thoughts and lessons were injected into activities of the agencies and organisations. Officials and Party members, especially those in key positions, were deemed to have "led by example" and successfully managed to promote anti-corruption, anti-wastefulness and administrative reforms.
The inspections by the working groups of the Secretariat also showed that heavy but fair punishments were meted out to corrupt members.
However, the reports pointed out the study of Party resolutions and Hồ Chí Minh thought in some agencies was superficial and being implemented in an inconsistent and perfunctory manner. Co-operation in information dissemination between agencies remains lucklustre, as is the fight against "peaceful evolution", which would lead to the dilution of Communist ideology, or wrongful views. Certain agencies were found to have failed to call out unscrupulous behaviour in Party members, for fear of disrespecting them.
Workforce streamlining and structural reforms remain slow and inefficient, while transparency in asset declaration of Party members and officials leaves lots of room for improvement, according to the reports.
Concluding the meeting, General Secretary Trọng reaffirmed that robust efforts in promoting transparency and Party building would translate to better socio-economic development, as evidenced by the economy's performance last year and in the first months of 2018.
He also warned that Party members must be on guard against straying from Communist ideology. He asked for utmost loyalty to the Party, in addition to continuing the recent intensive focus on eradicating moral degeneration and economic corruption.
He also stressed the role of the leader in galvanising efforts in the fight against corruption and other deviant behaviours and thoughts.
Deputy PM slams MPI for poor allocation of investment capital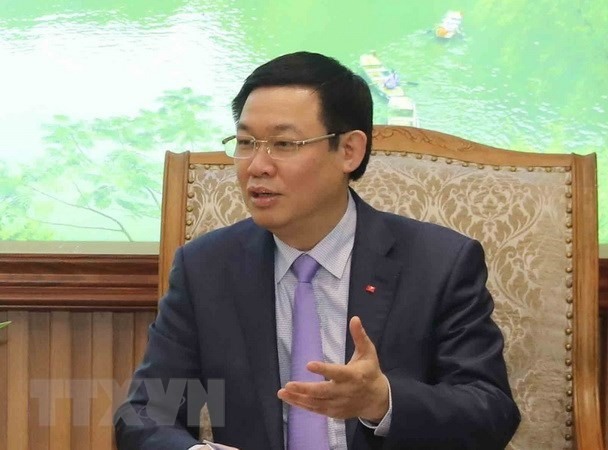 Deputy Prime Minister Vương Đình Huệ speaks at a meeting with the ministry yesterday on mid-term public investment. 
Poor coordination between the Ministry of Planning and Investment and other ministries and localities is to blame for the late disbursement of public investment, said Deputy Prime Minister Vương Đình Huệ.
At a meeting with the ministry yesterday on mid-term public investment, the Deputy PM also pointed out that there were shortcomings in legal documents on public investment, including the Law on Public Investment and a number of the Government's decrees on implementing it.
He asked the ministry to cooperate with related State bodies to review these documents in order to mend problems that need to be revised before May, when the National Assembly convenes its next session.
Slow administrative reforms and a lack of efforts to improve management and leadership capacity were another reason, he said, admitting that the Government's target of disbursing 100 per cent of public investment capital in 2018 was a challenge.
In 2016, 91.3 per cent of public investment capital approved was disbursed, although the figure for 2017 decreased to 86 per cent.
Huệ said next week he would head a team to inspect the public investment disbursement at some key localities and ministries which use a lot of State budget money such as Hà Nội and HCM City, as well as the ministries of transport, health, agriculture and rural development, and education and training.
According to Huệ, the inspection is aimed at figuring out reasons for the sluggishness and those who are responsible. It will also help to detect and amend shortcomings in related legal documents.
Speaking at the meeting, Deputy Minister of Planning and Investment Lê Quang Mạnh said the Government had until now assigned the allocation of about VNĐ1.64 quadrillion (US$ 72.16 billion) or 91.3 per cent of the total amount of public investment capital approved by the National Assembly for the 2016-2020 period. The money is supposed to be used for around 9,600 projects.
According to the ministry, the slow disbursement is due to difficulties in balancing the State budget for public investment, the failures of localities in reviewing, adjusting and phasing out projects or seeking alternative sources of capital for those that have not been allocated enough in the mid-term public investment plan.
Besides, the mechanisms and policies for public-private partnership are not attractive enough to draw private investors in public infrastructure and public service development projects.
The ministry also blames localities for failing to abide by regulations, criteria and priorities in allocation of public investment capital, making it difficult for the ministry to grasp a full picture of the overall plan for capital allocation.
The ministry worries that in the remaining two years out of the five-year period it will fail to disburse all the capital as approved by the National Assembly. The ministry therefore proposes that the Government prepare scenarios of public investment disbursement for the remaining two years to define demand and disbursement ability which will serve as a basis to review and adjust the mid-term public investment plan.