The World Bank (WB)'s experts have suggested Vietnam promptly reform its social insurance sector systematically in order to ensure the balance between collection and spending in the mid-and long-terms.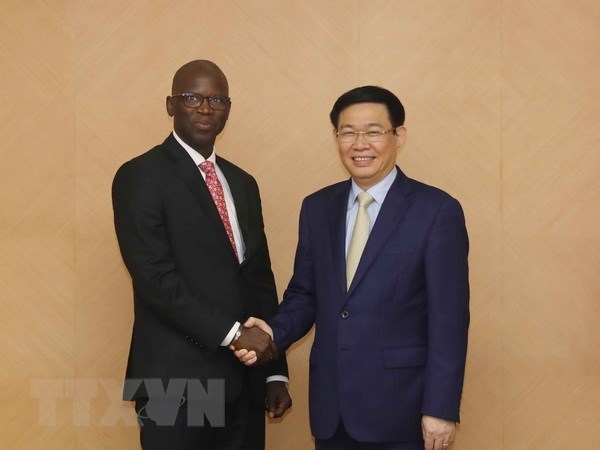 Deputy PM Vuong Dinh Hue (R) and WB Country Director for Vietnam Ousmane Dione
WB Country Director for Vietnam Ousmane Dione and other WB experts had a working session with Deputy Prime Minister Vuong Dinh Hue, who is also head of the central steering committee for reform of wage, social insurance and allowances for people with meritorious services, in Hanoi on April 5.
According to the experts, Vietnam's reforms in social insurance policy, which began in 2014, are not strong and visionary enough to deal with ongoing challenges. 
They explained that the imbalance between collection and spending in Vietnam's social insurance sector is expected to increase from 1.7 percent at present to 3 percent in the future since there will be more beneficiaries. 
The total asset of the Vietnam Social Security (VSS) now accounts for 12 percent of the gross domestic product (GDP), the highest level. However, the value is forecast to drop to zero between 2036-2042. 
At the same time, Vietnam's retirement system is facing many challenges due to the rapid aging population. 
Given this, the experts proposed strengthening the State retirement system managed by the VSS, encouraging the involvement of the unofficial sector, developing a fundamental social retirement pension fund for poverty reduction and gradually expanding the private retirement system. 
Vietnam should raise retirement pension at a rate lower than that of the salary and adjust retirement pension in line with inflation, they said.
The retirement age should be increased and equal between men and women, the experts said, underling the need for Vietnam to reduce the retirement pension gap between the State and private sectors. 
The experts also gave recommendations to Vietnam on ensuring the stability of the financial system. 
In reply, Deputy PM Hue said the WB's assessments would help the Vietnamese Government complete a project on social insurance reform which will be submitted to the Politburo during the upcoming seventh plenum of the Party Central Committee. 
The Deputy PM called on the WB to assist Vietnam in training experts in financial forecasting, expressing his belief that with the support of the bank, Vietnam will successfully conduct the reform.-VNA