Vietnam attends NAM senior official meeting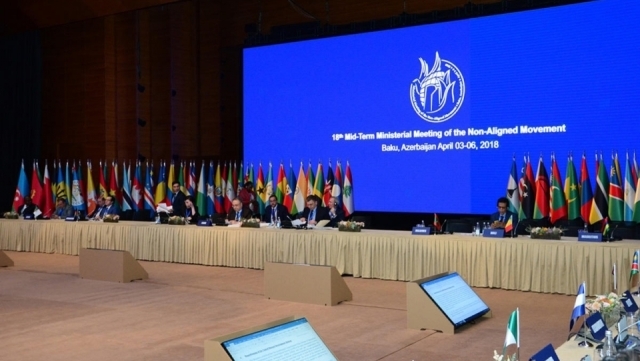 The Vietnamese delegation joined other member countries at a meeting of Senior Officials of the Non-Aligned Movement, which kicked off in Baku, Azerbaijan on April 3. (Photo: en.trend.az) 
A Vietnamese delegation, led by Vietnamese Permanent Representative to the United Nations, Ambassador Nguyen Phuong Nga, attended the Senior Officials' Meeting (SOM) of the Non-Aligned Movement (NAM), which kicked off in Baku, Azerbaijan on April 3.
The two-day event aims to prepare for the NAM's 18th Mid-year Ministerial Meeting, scheduled to be held from April 5-6.
Addressing the inaugural meeting, a representative from Venezuela, the State member taking NAM's presidency, called for greater solidarity and unity, and highlighted the active role of the movement in building a more just and democratic world, while ensuring the interests of developing countries.
Senior officials discussed the contents of the final draft to be submitted to the ministerial meeting for consideration and approval, deliberating on a number of important issues, including the implementation of major UN agendas related to security, disarmament, international law, peaceful dispute settlement, peacekeeping, and UN reform.
NA officials inspect Vietnam-Laos immigration agreement execution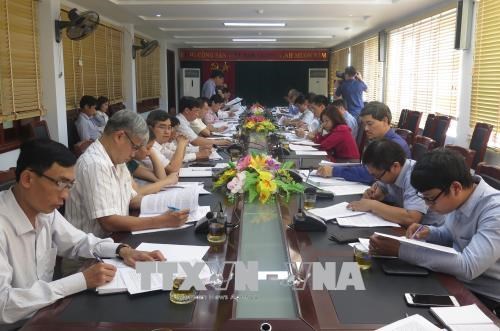 Scene at the working session 
A delegation from the National Assembly (NA) Committee for External Affairs met authorities in the northern mountainous province of Dien Bien on April 3 to examine the local implementation of the Vietnam – Laos agreement on tackling free migration and undocumented marriage in their shared border areas.

At the function, Deputy Chairman of the NA committee Nguyen Manh Tien praised efforts made by Dien Bien in carrying out the pact and asked the local authority to study the life of Vietnamese in Laos and help them overcome difficulties.

The delegation noted shortcomings of addressing free migration and undocumented marriage in Vietnam - Laos border areas, which were said to partly stem from poverty among immigrants.

Nguyen Thanh Do, Vice Chairman of the provincial People's Committee, reported since a project to implement the agreement was approved in 2013, Dien Bien has studied and classified the groups in border areas of Dien Bien, and Laos' Luang Prabang and Phongsaly provinces.

The three localities are completing their lists on the groups for proposing who will stay and who will leave, he added.

Do said the implementation has contributed to improving the state management of population and national border, adding that it plays an important role in tackling the free migration issue and contributes to border security and socio-economic development of the areas.

Earlier the same day, the delegation worked with authorities in Dien Bien district and officials at the Tay Trang international border gate, while visiting Na U commune to learn about free migration and undocumented marriage here.

Prime Minister Nguyen Xuan Phuc receives German Ambassador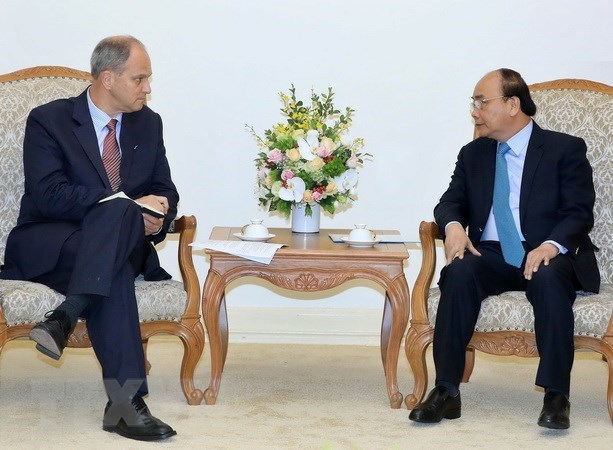 Prime Minister Nguyen Xuan Phuc (R) receives German Ambassador to Vietnam Christian Berger 
Vietnam treasures ties with Germany and wishes for the further development of bilateral cooperation, Prime Minister Nguyen Xuan Phuc has told German Ambassador to Vietnam Christian Berger. 

During the reception for the diplomat in Hanoi on April 3, he highly appreciated cooperation projects between the two countries which have been carrying out in Vietnam in economic, education-training and cultural fields.

Ambassador Berger, for his part, thanked Vietnamese ministries and sectors for their cooperation to promote the two countries' relations. 

He talked some measures to enhance the Vietnam-Germany relations, especially in economic, trade, investment, education and cultural areas.

Taking note the Ambassador's opinions, PM Phuc proposed both sides actively work together to boost the Vietnam-Germany ties.

He welcomed German businesses to do business in Vietnam and affirmed the Government and relevant agencies of Vietnam will facilitate their operations in the country. 

Ministry to speed up restructuring to ensure growth target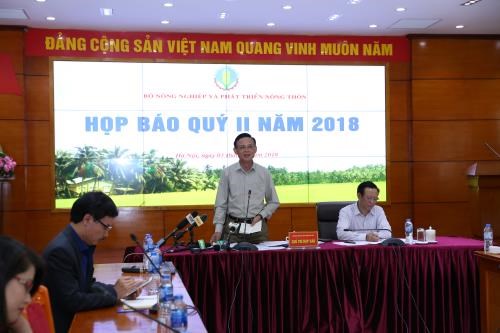 MARD Deputy Minister Ha Cong Tuan addresses the press conference 
The Ministry of Agriculture and Rural Development (MARD) will speed up the restructuring process as part of efforts to ensure the set growth target for the year will be achieved, said Deputy Minister Ha Cong Tuan.

Speaking at a quarterly press conference of the ministry in Hanoi on April 3, Tuan said that this year, the ministry will focus on measures to stabilize and expand export markets, as difficulties are being seen in many major markets of Vietnamese agro-forestry-fishery products, including China, the EU, and the US.

In 2018, the sector aims for a GDP growth of at least 3 percent, along with 40.5 billion USD in export revenue, nearly 40 percent of communes nationwide recognised as new-style rural areas, and 41.65 percent of forest coverage.

Tuan said that together with restructuring to improve productivity and quality of farm produces, the ministry will design plans to develop major product groups to meet market demands and adapt to climate change. 

Agricultural product processing will receive more attention, he added.

Meanwhile, Tran Van Cong, deputy head of the MARD's Department of Processing and Trade for Agro-forestry-fisheries Products, said that the ministry will drastically streamline and simplify administrative procedures. In April, the ministries will reduce procedures of inspection to avoid overlapping.

According to the General Statistics Office, in the first quarter of 2018, the GDP growth of the sector reached 4.05 percent, the highest figure in the recent 13 years. Production value of agro-forestry-fisheries products was estimated at about 189.5 trillion VND, up 4.18 percent over the same period last year. 

Export revenue of the products in the first three months of this year hit nearly 8.7 billion USD, a rise of 9.6 percent year on year and reaching 21.4 percent of the yearly target.

As of March 20, the country has 3,289 communes, or 36.84 percent of total communes, have been recognised as new-style rural areas, 220 communes higher than that in the end of 2017.

ASEAN, US hold 31st dialogue in Malaysia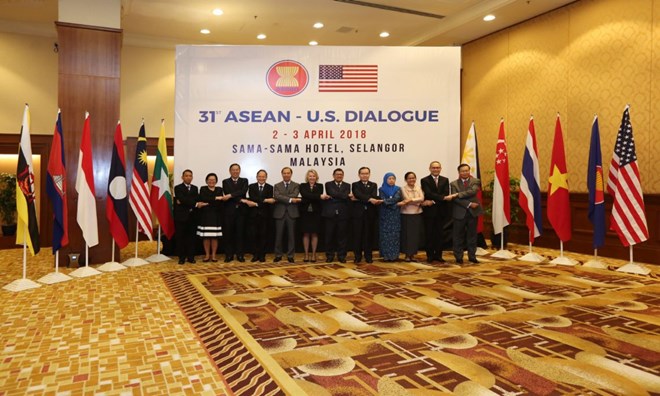 Scene at the event (Photo: asean.usmission.gov)
ASEAN and the US underscored the importance of their strategic partnership at their 31st dialogue in Selangor, Malaysia on April 2-3 

Participating representatives of the US and ASEAN celebrated the growth of political, security, economic and cultural ties between the sides, reflected through implementation outcomes of their action plan for 2016 – 2020. The plan saw 83 out of its 95 activities and projects carried out.

A number of fruitful US-supported programmes in ASEAN included the Trade & Investment Framework Agreements, Expanded Economic Engagement (E3) Initiative, US-ASEAN Connectivity through Trade and Investment project, Young Southeast Asian Leaders initiative, and Lower Mekong Initiative.

The ASEAN member countries praised the Trump Government for maintaining its commitment to the bloc and stated their willingness to work with the nation to increase ASEAN self-reliance and realise the ASEAN Community Vision 2025.

ASEAN and the US agreed to effectively implement their action plan for 2016 – 2020, particularly in such realms as free trade – investment, digital economics, connectivity, marine cooperation, education, people-to-people exchange, and response to nontraditional security threats.

Acting Assistant Secretary for East Asian and Pacific Affairs Susan Thornton highlighted the importance of ASEAN in the US policy on Asia – Pacific.

Voicing her support toward the bloc's solidarity, unity, and centrality in the regional architecture, the official said the US will continue helping ASEAN tackle nontraditional security challenges like marine security, cybercrime, and terrorism.

Thornton introduced the US's idea of a free and open Indo-Asia-Pacific strategy, noting that through it, the US wants to work with ASEAN and other partners in the region to build a rules-based order of equality, free trade and investment.

The US welcomes the negotiation between the bloc and China on the Code of Conduct of Parties in the East Sea in line with international law, including the UNCLOS, she added.

She affirmed that the US supports peaceful settlement of disputes in the East Sea based on international law, stressing the importance of free navigation and overflight on the waters, respect to territorial sovereignty, and non-militarization.

Addressing the event, Deputy Foreign Minister Nguyen Quoc Dung said Vietnam attached importance to the ASEAN – US strategic partnership.

The Vietnamese diplomat lauded the sides' implementation of their action plan for 2016 – 2020 and the US's practical moves to keep commitments to and foster cooperation with ASEAN.

On behalf of the bloc member states, Dung affirmed ASEAN's stance and principles on the East Sea issue.

He listed opportunities and challenges that ASEAN, the US, and other dialogue partners of the bloc need to work together to address, including piracy, human and drug trafficking, illegal fishing, marine environmental protection, and peaceful settlement of disputes.

He added the collaboration can be achieved through regional frameworks and mechanism like the ASEAN Regional Forum, East Asia Summit, and Expanded ASEAN Maritime Forum, based on the 1982 United Nations Convention on the Law of the Sea (UNCLOS) to maintain a peaceful and stable environment in the region.

Vietnam, Mongolia boost defence ties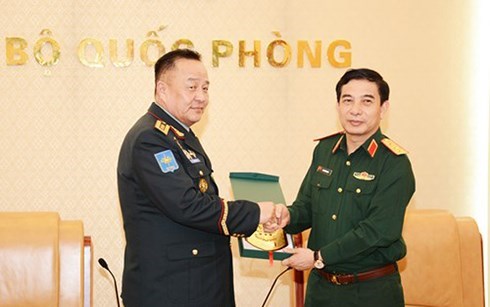 Sen. Lieut. Gen. Phan Van Giang, Chief of the General Staff of the Vietnam People's Army (right) hosts a reception for Chief of the General Staff of the Mongolian Armed Forces Lieut. Gen. Dulamsuren Davaa on April 3. (Photo: VOV)
Vietnam and Mongolia should further intensify partnership through the exchange of visits at all levels, cooperation in personnel training and experience sharing in UN peacekeeping mission, said Sen. Lieut. Gen. Phan Van Giang, Chief of the General Staff of the Vietnam People's Army (VPA).

Giang made the suggestion during a reception for Chief of the General Staff of the Mongolian Armed Forces Lieut. Gen. Dulamsuren Davaa in Hanoi on April 3 who is on a visit to Vietnam.

Since Vietnam and Mongolia signed a Memorandum of Understanding on bilateral defence cooperation in 2013, the two countries have worked to step up affiliation in delegation exchange, personnel training and experience sharing in UN peacekeeping activities, said Sen. Lt. Gen. Phan Van Giang.

He thanked the Mongolian Ministry of Defence for inviting Vietnam to workshops within the framework of the multinational peacekeeping drill Khaan Quest 2016, which is the capstone exercise for the United Nations Global Peace Operations Initiative Programme.

Lieut. Gen. Dulamsuren Davaa, for his part, expressed his hope to learn from the VPA's experience in use and management of military equipment and to increase exchange of visits at levels with Vietnam to further expand the two countries' ties in defence.

Last week, during a meeting with Mongolian Ambassador to Vietnam Dash Bilegdorj, Defence Minister Ngo Xuan Lich affirmed the Vietnamese Defence Ministry is keen on working with its Mongolian equivalent to implement bilateral agreements more effectively, particularly in delegation exchanges, military health care, logistics and UN peacekeeping mission.-

Vietnam hopes for stronger ties with Switzerland in green energy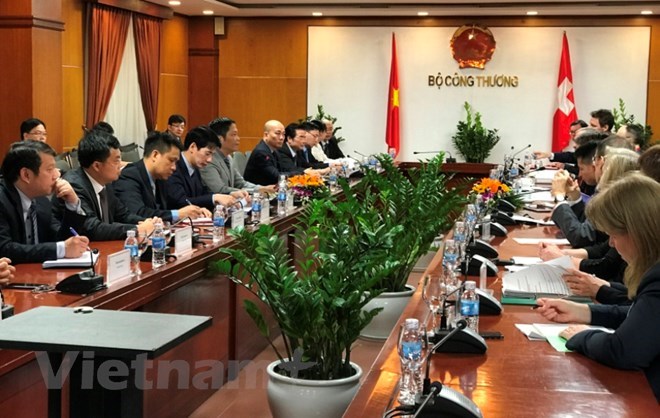 Overview of the talks between Minister of Industry and Trade Tran Tuan Anh and Doris Leuthard, a member of Switzerland's Federal Council and head of the Federation Department of Environment, Transport, Energy and Communication in Hanoi on April 3 
Minister of Industry and Trade Tran Tuan Anh has proposed that the Swiss Government continue paying attention to cooperation with Vietnam in energy development, renewable and green energy as well as climate change response.

He hosted Doris Leuthard, a member of Switzerland's Federal Council and head of the Federation Department of Environment, Transport, Energy and Communication in Hanoi on April 3.

Minister Anh showed his belief that the Swiss official's visit will bring about new breakthroughs in the partnership between the two countries.

He said that currently, Vietnam is opening its door and integrating into the world and that it will sign a free trade agreement with the EU and will implement the Comprehensive and Progressive Agreement for Trans-Pacific Partnership (CPTPP).

A free trade agreement between Vietnam and four members of the European Free Trade Association (EFTA) - Switzerland, Norway, Iceland and Liechtenstein – will be signed soon.

He said that he believes that the deals will create favourable conditions and open up new opportunities for cooperation between Vietnam and its partners, including Switzerland.

For her part, Leuthard said that Swiss firms were interested in Vietnam and seeking investment opportunities in energy. 

She affirmed that Switzerland highly values ties with Vietnam in all fields, highlighting affiliation potential between the two countries in the future, especially when progress has been seen in negotiations for the free trade agreement between Vietnam and the EFTA.

She agreed with Minister Anh that once the deal becomes effective, along with joint efforts of the governments, ministries, sectors, localities and businesses of both sides, the strategic partnership between Vietnam and Switzerland will continue thriving.

State administrative apparatus needs reform for better efficiency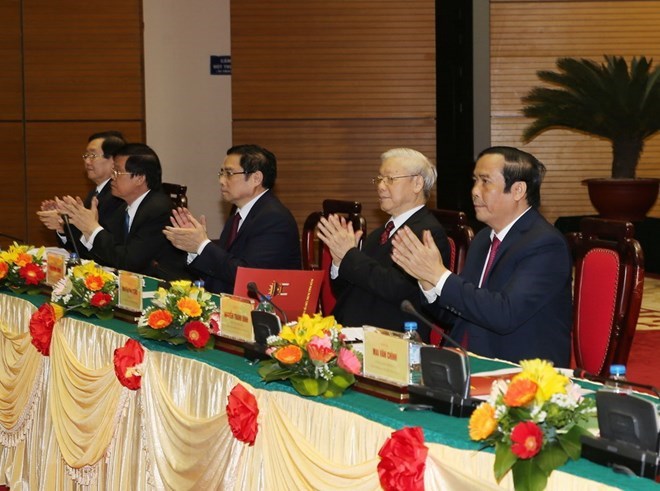 Party General Secretary Nguyen Phu Trong (second from right) attended an online conference reviewing Party building work in 2017 and deploying tasks of 2018. 
Building a streamlined and effective apparatus for the political system is one of the key ta​sks that the Communist Party of Vietnam (CPV) has set for the 12th tenure. 

With high political resolve, Resolution 18-NQ/TW adopted by the 6th plenum of the 12th CPV Central Committee emphasised streamlining personnel in combination with re-organising, improving the quality of, and effectively using the contingent of officials, public servants and civil workers; cutting regular spending and contributing to reforming salary policies. 

To carry out the resolution along with related plans and resolutions of the CPV Politburo and the National Assembly, the Government issued a resolution on a Plan of Action on February 3, 2018, urging drastic and urgent actions. 

Under the resolution, the Government requires ministries, ministry-level agencies and Government agencies to review, re-arrange and streamline their apparatus, cut the numbers of general departments, departments, sections and sub-sections. The establishment of new organisations or sections under departments will not be allowed, except for special cases that need approval of competent authority. The number of project management units must be reduced to the minimum. Public non-business agencies must be merged and re-arranged to reduce their number and personnel. 

Right in the first quarter of 2018, ministers, heads of ministry-level agencies, heads of Government agencies, and Chairs of People's Committees of provinces and centrally-run cities were ordered to design and issue plans to implement Resolution 18-NQ/TW and related plans and resolutions of the Politburo, the National Assembly and the Government. 

With a detailed plan and roadmap, the Plan of Action demonstrates the Government's high resolve to concretise the Party's policy, thus helping create remarkable changes in the awareness and actions of officials, public servants and civil workers at all levels as well as workers across all sectors and society as a whole regarding the reform of the political system's apparatus.

Previously, at a working session with the Government in August 2017, an inspection team of the National Assembly which monitored the reform of the State administrative apparatus during 2011-2016, noted that there were yet any remarkable changes in the Government's organisation and structure in the direction of compactness and focusing on macro management and policy making, while cutting involvement in direct management and execution work. 

In the period from 2011 to 2016, the number of administrative units under ministries and ministry-level agencies increased by 28, while those under general departments rose by 822. As of June 2017, there were 42 general departments, double the number in the Government's 11th tenure. The numbers of departments and sections also increased by between 4.7 and 13.6 percent compared to 2011. 

It is noteworthy that such an expanded apparatus was unable to cover all aspects of State management. According to the Government's reports, in 2011 there were two aspects that had not been subject to State management and the problem was not solved until August 2017. At present, there are 18 aspects under overlapping management, or affected by differing viewpoints on the scope of responsibility among ministries and sectors.-

Vietnam wants Japan's support in overcoming war consequences

Deputy Defence Minister Nguyen Chi Vinh has called for Japan's support in dealing with war aftermaths, especially toxic chemical and dioxin consequences in Vietnam.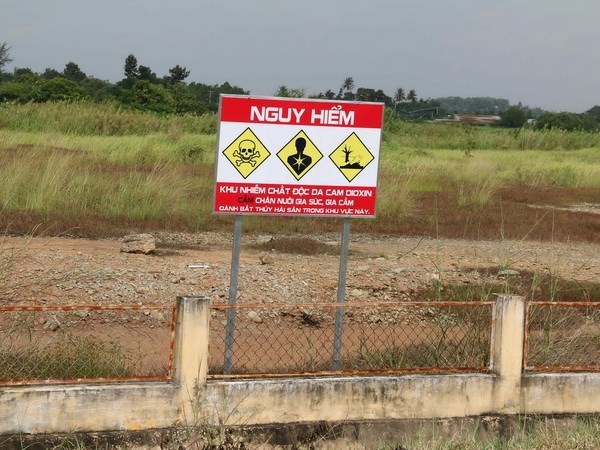 Dioxin-contaminated area in Bien Hoa airport
He made the proposal during a working session with a delegation from Japan's Foreign Ministry led by Yukiko Okano from the International Cooperation Bureau in Hanoi on April 3.

Sen. Lieut. Gen. Vinh, who is head of the standing agency of the National Steering Committee on the Settlement of Post-war Unexploded Ordnance and Toxic Chemical Consequences (Committee 701), said that Vietnam hopes for having support from the international community, including Japan in dioxin remediation projects.

He held that the Japanese delegation's visit will lead to new cooperation activities between Vietnam and Japan in dealing with war aftermaths in general and dioxin consequences in Vietnam in particular, contributing to enhancing the partnership between the two countries.

For her part, Yukiko Okano said that basing on information gathered during the visit, the delegation will discuss with experts and relevant agencies of Japan on the possibilities of cooperation with Vietnam in overcoming toxic chemical and dioxin remnants of war in Vietnam.

The US army sprayed some 80 million litres of toxic chemicals from 1961 to 1971, 61 percent of which was Agent Orange containing 366 kilograms of dioxin, over nearly one quarter of the total area of South Vietnam.

Preliminary statistics showed that 4.8 million Vietnamese people were exposed to Agent Orange/dioxin, and about 3 million people became victims. Tens of thousands of people have died while millions of others have suffered from cancer and other incurable diseases as a result. Many of their offspring have also suffered from birth deformities.