First Lady of the Republic of Korea Kim Jung-sook has received 15 Vietnamese students in the presidential Blue House ahead of her husband President Moon Jae-in's visit to Vietnam slated for March 22 – 24.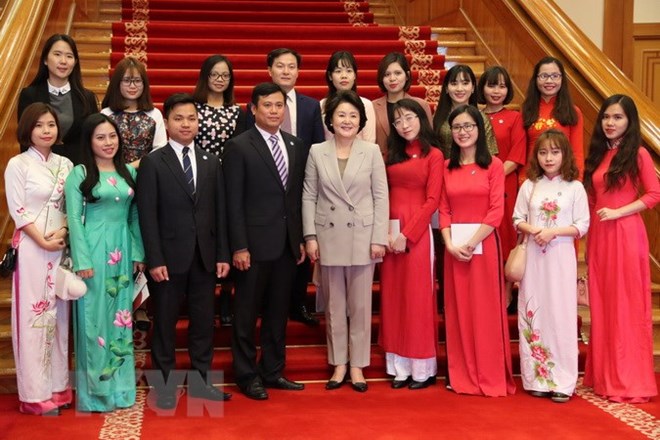 First Lady of the Republic of Korea Kim Jung-sook and Vietnamese students in a group photo
Beginning the conversation by saying hello in Vietnamese, Kim introduced the RoK's writing script and major socio-economic development features to the students.
She took her guests around the Blue House, including the President's working room, and briefed them on the building's architecture, highlighting the architectural similarities between Vietnam and the RoK.
The First Lady joyfully talked about the Vietnamese students' interest in her country's educational system and their decision to further their studies here.
Expressing her empathy with the group on their difficulties while living away from home, Kim wished Vietnamese students success with a belief they will become a bridge connecting the two nations.
She recalled her trip to Vietnam's central city of Da Nang in November last year and said she is happy that Korean culture has been warmly welcomed in the Southeast Asian country.
Vietnamese culture is also thriving in the RoK, Kim said, adding that she and her daughter often eat Vietnamese dishes like pho (noodle served with beef or chicken) and bun cha (grilled pork and noodle).
On behalf of the Vietnamese students, Ta Le Huyen, who is studying at the Kyung Hee University, briefed the First Lady on Vietnamese student communities in the RoK.
Huyen expressed her hope that the RoK's Government and universities would offer more scholarships to Vietnam.
After the meeting, the guests were treated to a lunch of pho and bun cha. 
Talking to Vietnam News Agency, Huyen said she was honoured to be part of the unforgettable meeting.
Nguyen Phuong Dung from the Sejong University, also a member of the Vietnamese delegation, noted her hope that Vietnam and the RoK will issue more policies to expand education and training collaboration.
Dung said she expects the RoK Government to further facilitate learning and post-graduate conditions for Vietnamese students, and the Vietnamese Government to come up with more policies to help students obtain suitable jobs upon returning home.-VNA