The Central Inspection Commission (CIC) has found multiple violations committed by Party committees in Thanh Hoa, Quang Nam, Vinh Phuc and Dak Nong provinces.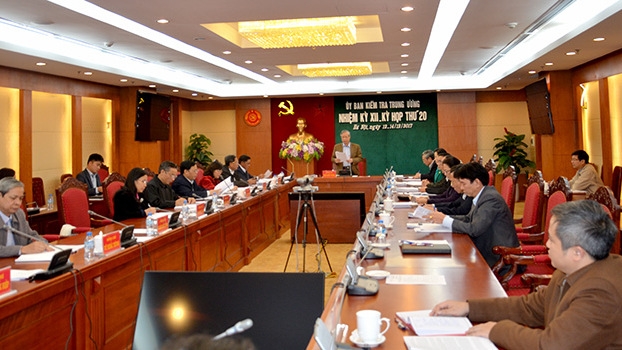 The conclusions were announced after the CIC convened its 20th meeting on December 12-13.
Ngo Van Tuan, director of the Thanh Hoa Department of Construction during the 2010-2015, was found to have violated the principle of democratic centralism, and the Party and State's regulations on personnel appointment.
For example, Tuan made many unauthorised appointment decisions, notably the case of Tran Vu Quynh Anh, who rose from a contract employee to head of a division under the Department of Construction within a very short time.
Such a meteoric rise was impossible without Tuan's patronage, which the CIC said was given to Anh with an ulterior motive.
Dao Vu Viet, director of the Thanh Hoa Department of Construction from 2015 until now, was also found to have violated regulations on personnel and made unauthorised decisions on establishing a number of subordinate units.
The CIC concluded that Tuan's wrongdoing is quite serious and such wrongdoings were long-standing, systematic, causing outrage among other Party members, officials and the people.
Therefore, the CIC decided to discipline Viet by a warning and recommended the Secretariat hand out a severe level of discipline to Tuan.
Meanwhile Le Phuoc Thanh, former secretary of the Quang Nam Party Committee and former chairman of the Quang Nam People's Committee, was found to have committed nepotism when appointing his son Le Phuoc Hoai Bao to hold important positions even though Bao was not qualified and sent him to study abroad using state funds illicitly.
Also in Quang Nam province, Dinh Van Thu, chairman of the provincial People's Committee and deputy chairman Huynh Khanh Toan were also held accountable for wrongdoing related to personnel.
Le Phuoc Hoai Bao was found to be dishonest in stating his work background and lacked discipline when skipping participation in Party activities for an extended time.
Therefore, the CIC asked the Quang Nam Party Committee to remove Bao from the list of Party members and revoked all inappropriate decisions concerning his appointments.
The CIC also found that Nguyen Thanh Son, former director of the Dak Nong Department of Planning and Investment violated the land law and regulations on activities Party members are not allowed to do.
Son and his family obtained land use rights certificates for 41.5 hectares of reclaimed land although they are not covered by the relevant land policy.
Therefor Son was disciplined by a warning for damaging the reputation of the local Party organisation.
Meanwhile, Le An Tinh, a former police head of Dak Song district, was disciplined by reprimand for letting most of the 28 hectares of forest assigned to him, which itself was illicit, be cut down and used for inappropriate purposes.
At the two-day meeting, the CIC also considered discipline measures against Pham Van Vong, former secretary of the Vinh Phuc Party Committee from 2010 to 2015 and former chairman of the Vinh Phuc People's Council from 2011 to 2016; and Phung Quang Hung, former chairman of the Vinh Phuc People's Committee from 2011 to 2016.
Nhan Dan