Vietnamese businesses still think Laos is an attractive destination and will continue to invest in the country despite a slowdown in out-bound investment, Vietnamese Minister of Planning and Investment Nguyen Chi Dung told Lao Prime Minister Thongloun Sisoulith in Vientiane on December 16.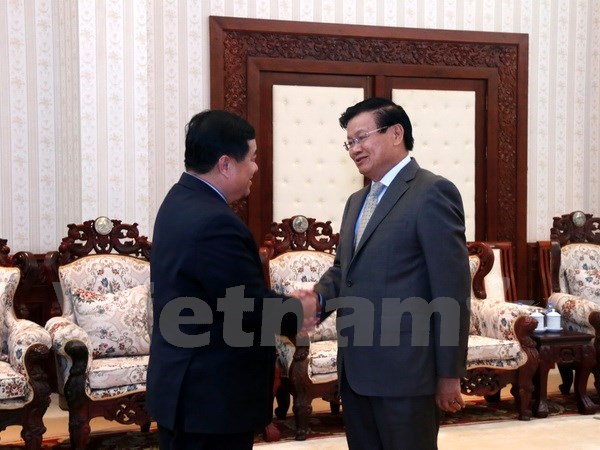 Vietnamese Minister of Planning and Investment Nguyen Chi Dung (L) ​and Lao Prime Minister Thongloun Sisoulith
Minister Dung, who is also Chairman of the Vietnam-Laos Cooperation Committee, expressed his hope at the meeting with the Lao Government leader that Laos will continue to support Vietnamese firms in the country. 
He informed the PM about the goal of his working visit and outcomes of the talks between the two Ministries of Planning and Investment during the visit, as well as results of the Vietnamese delegation's trip to Phongsaly and Udomsay provinces.  
Dung particularly took note of the smooth coordination between the two countries in organising activities to mark the 55th anniversary of the bilateral diplomatic ties and 40 years of the signing of the Vietnam-Laos Treaty of Friendship and Cooperation. 
PM Thongloun Sisoulith appreciated the Vietnamese delegation's trip to the remote and disadvantaged localities of Laos, which he said will help the Vietnamese side to have accurate assessment about Laos' socio-economic situation. 
He highlighted the important role played by the Vietnam-Laos, Laos-Vietnam Cooperation Committees in implementing agreements reached at the 39th meeting of the Vietnam-Laos Intergovernmental Committee held in Hanoi in February 2017. 
He urged the committees to make greater efforts, considering that the bilateral economic and trade ties have remained stagnant and not matched potential of the two countries as well as aspirations of their leaders. 
Earlier the same day, Minister Dung and his Lao counterpart Souphan Keomisay held talks to review cooperation between their ministries as well as the two committees, and set forth cooperation orientations in the time to come. 
They also discussed preparations for the 40th meeting of the Vietnam-Laos Intergovernmental Committee to be held in Vietnam in early 2018. -VNA