Vietnamese Prime Minister Nguyen Xuan Phuc held separate meetings with Russian counterpart Dmitry Medvedev and Philippine President Rodrigo Duterte on the sidelines of the 31st ASEAN Summit and related summits in Manila on November 14.
At the meeting between the Vietnamese and Russian PMs, the two leaders expressed their pleasure at the positive development of the bilateral comprehensive strategic partnership with enhanced political trust and trade growth.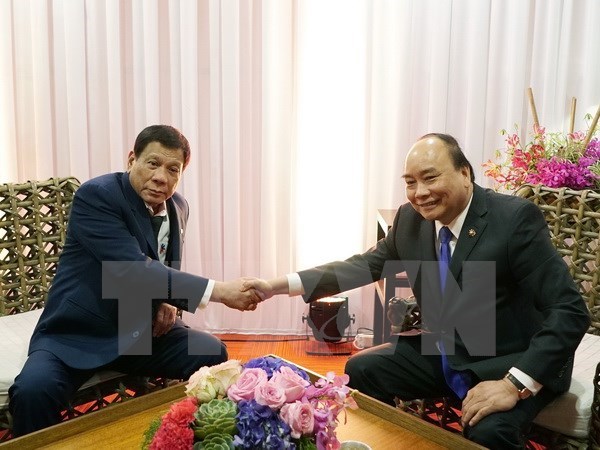 Vietnamese Prime Minister Nguyen Xuan Phuc (R) meets with Philippine President Rodrigo Duterte
Two-way trade increased by 26 percent in the first nine months of 2017 while trade between Vietnam and the Eurasian Economic Union (EAEU) also grew by 23.5 percent, the noted.
The PMs agreed to take drastic measures to fully tap huge cooperation potentials between the two countries in addition to expanding trade and investment ties with a stronger focus placed on agriculture.
PM Phuc proposed Russia soon grant licenses to Vietnamese aquatic exporters who have been recognized by Vietnamese quality management agencies.
PM Medvedev affirmed that Russia will increase imports of aquatic products from Vietnam which meet the EAEU requirements and agreed with PM Phuc's proposal on making it easier for the reception of Vietnamese guest workers in Russia.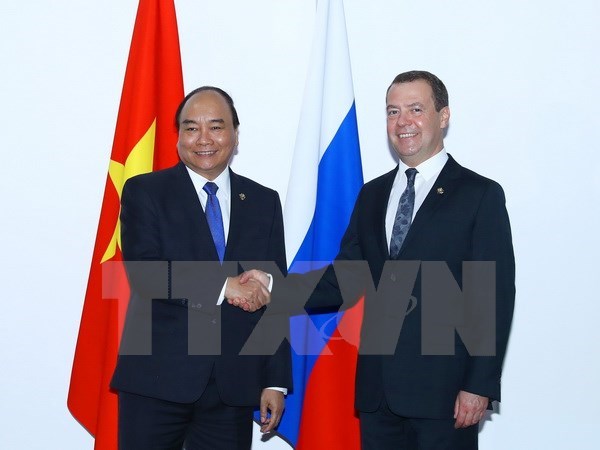 Vietnam Prime Minister Nguyen Xuan Phuc (L) meets with Russian counterpart Dmitry Medvedev 
The two leaders consented to promote payments in local currencies to facilitate commercial transactions and enhance cooperation in energy, defense-security, information communication, cultural exchanges, tourism and using outer space for peaceful purposes.
They also pledged to strengthen coordination at multilateral forums.
The Russian PM invited Vietnamese enterprises to participate in the Ekaterinburg international exhibition 2018.
During his meeting with President Duterte, PM Phuc suggested the two sides actively deploy already signed agreements, including a rice trading deal. 
He proposed President Duterte direct Philippine competent agencies to pay more attention to ensuring safety for Vietnamese sailors and address relevant issues.
The two leaders agreed to maintain regular high-level visits and meetings as well as bilateral cooperation mechanisms, increase two-way trade, beef up coordination in the fight against crimes, including drug crime, and ensure maritime security.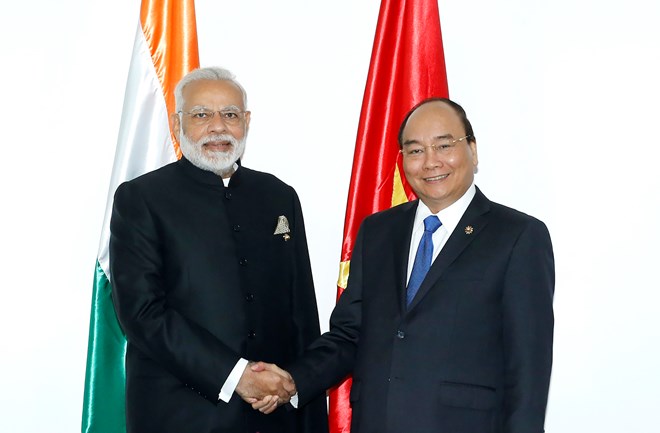 Prime Minister Nguyen Xuan Phuc (R) shakes hands with his Indian counterpart Narenda Modi (Source http://baochinhphu.vn)

Prime Minister Nguyen Xuan Phuc met with his Indian counterpart Narenda Modi on the sidelines of the 31st ASEAN Summit and related meetings in Manila, the Philippines, on November 14.
PM Nguyen Xuan Phuc congratulated India on its socio-economic achievements and affirmed that Vietnam has continuously attached significance to developing the traditional friendship and comprehensive strategic partnership with India.
The Indian PM also hailed Vietnam's socio-economic development and international integration, and reiterated that his country continues considering Vietnam one of the pillars in its "Act East" policy.
The two PMs exchanged measures to boost bilateral cooperative ties, agreeing to step up defence partnership with India providing technology transfer and financial credit for Vietnam.
The two sides expressed their belief that the two-way trade between the two countries will reach 15 billion USD in 2020, and agreed on ways to boost aviation and maritime connection.
India will increase its investment in Vietnam's large potential sectors, such as infrastructure facility, information and communication technology, mechanical engineering, industrial parks building, hi-tech agriculture.
The two sides reached consensus on pushing for cooperation in energy, referring to India conducting oil and gas exploration and production and building thermal electricity plants.
The two sides also agreed on implementing the framework agreement on exploring and using the space for peaceful purposes while boosting cooperation in economic development, culture, and people-to-people exchange.
They discussed regional and international issues of shared interest. Vietnam backs India's Act East policy and its greater role in the region and the strategic partnership with ASEAN. The two sides will continue coordinating and supporting each other at international and regional forums.
The two PMs shared the view on the importance of ensuring peace, stability, security, safety, and aviation and maritime freedom in the East Sea, highlighting the compliance with international law, including the United Nations' Convention on the Law of the Sea (UNCLOS) in 1982, with respect to the diplomatic and legal processes, settlement of disputes with peaceful measures on the basis of international law.
VNA