The UK's Financial Times on November 8 published an article lauding preparations for the Asia-Pacific Economic Cooperation (APEC) Economic Leaders' Week by Vietnam and the central city of Da Nang in particular.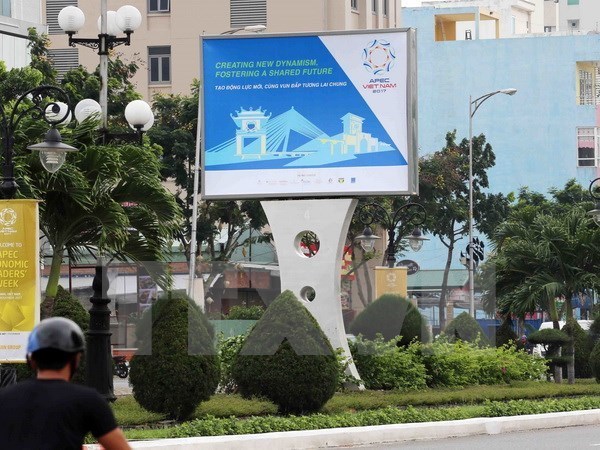 The article quoted Vice Chairman of the municipal People's Committee Nguyen Ngoc Tuan as saying that this is the biggest diplomatic event of Vietnam in 2017 and the biggest international event ever organised in Da Nang. 
However, the weather ahead of the meeting was inauspicious because typhoon Damrey in recent days has battered southern and central Vietnam, causing heavy rains and flooding in Da Nang and the rest of the region. 
Nguyen Tien Quang, Director of the Da Nang chapter of the Vietnam Chamber of Commerce and Industry, said this is a golden opportunity for Da Nang and there will not be so many opportunities again for the city to host delegations and national leaders like Presidents Donald Trump and Vladimir Putin, and leaders of big corporations. 
To prepare, Da Nang in May inaugurated a new international airport terminal, and has invested millions of USD in roads and tunnels meant to ease the traffic. Some 400 black limousines and white minibuses are lined along the city's riverfront to transport delegates and businesspeople from Alibaba, Pfizer, Facebook and Airbnb, it said. 
According to the article, Da Nang's name is associated with some of the darkest chapters of America's war in Indochina when the US used its air base there to store Agent Orange, the defoliant chemical blamed for causing cancer, birth defects and other health problems among large numbers of Vietnamese civilians.
Now the city is hoping to make its name as an efficient and orderly regional hub with tidy infrastructure and clean streets, which the municipal officials strive to keep clear of beggars, homeless people and drug users under a programme that provincial authorities call the "five yeses and three nos". 
The city welcomes around 6 million visitors each year, 1.5 million of them are foreigners. 
It said Da Nang has some way to go to catch up with Ho Chi Minh City and Hanoi in attracting businesses.
According to the VCCI's municipal chapter, the city has attracted some 3 billion USD in foreign investment in about 400 projects to date. However, the city has thus far failed to attract many top-drawer investors.-VNA