The Government projects a GDP growth of 6.7 percent in 2017 in a report submitted to the National Assembly Standing Committee on October 12 during the Committee's 15th session in Hanoi.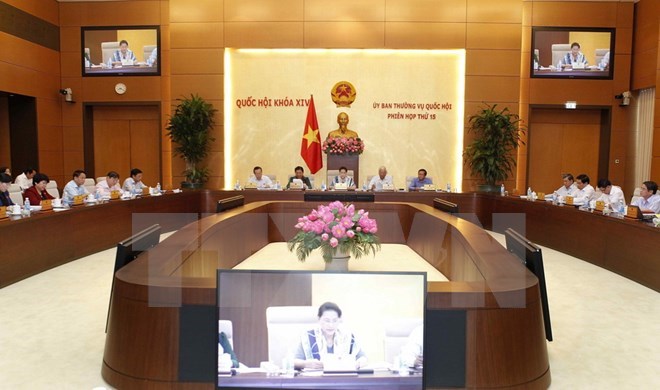 According to the government's report, macro-economy has been stabilised while inflation is kept below 4 percent. The gross domestic product (GDP) is estimated at 5,000 trillion VND or nearly 225 billion USD. 
Based on the socio-economic development plan for 2016-2020 adopted by the legislature, the projected performance of the economy in 2017 and the domestic and international situation, the Government envisions that the GDP is expected to expand by 6.5-6.7 percent in 2018 and export turnover to increase by 7-8 percent. The consumer price index would rise by an estimated 4 percent and the total social investment would account for 33-34 percent of the GDP next year, according to the projection. 
The majority of NA Standing Committee members shared the Government's view that most major socio-economic development targets would be completed this year, noting that the economy remains stable and the environment for business and production continues to improve.
However, they expressed concern that the economic restructuring process in combination with shift to new growth model, raising productivity and economic competitiveness remains slow and below expectation. 
Many expressed reserve about the fulfillment of the 6.7 percent GDP growth goal, saying that there is not much ground for expanding domestic consumption, foreign sector's exports, manufacturing and processing in the remaining months. 
NA Vice Chairman Uong Chu Luu said it is the first year that all 13 socio-economic criteria would be met or surpassed. 
He asked the government to explain to the legislature as to which factors would help bring about the results and which resources could ensure a 6.7 percent growth. 
The Vice Chairman also requested the Government to clarify why it is confident that State budget collection will meet target in 2017 when the domestic revenue only rose 2.1 percent from the estimate and  revenues collected from State, foreign-invested and non-State enterprises failed to meet estimate. 
NA Vice Chairman Do Ba Ty said in order to achieve a 6.7 percent growth this year, the figure for the fourth quarter must hit 7.4-7.5 percent, which is a challenging task. Moreover, disasters and floods will still pose challenges to farming sector. 
He asked the government to devise the most feasible plans to fulfill them. 
On the socio-economic development plan for 2018, Ty required the government to identify factors that can affect domestic production and free trade agreements' impacts on growth.
VNA