The 12thCommunist Party of Vietnam Central Committee (CPVCC) adopted the resolution of the sixth plenary session at the end of the closing meeting on the morning of October 11.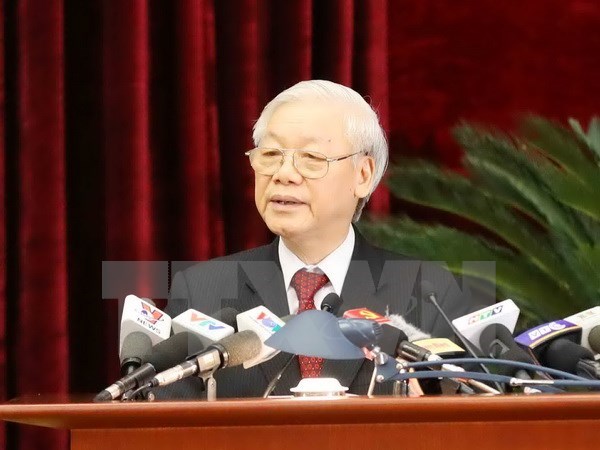 Party General Secretary Nguyen Phu Trong delivers a closing speech at the session 
Earlier, under the chair of President Tran Dai Quang, the CPV CC listened to several reports of the Politburo which summed up and responded to opinions of the CPV CC members during discussions of major issues. 

Politburo member and Prime Minister Nguyen Xuan Phuc presented the Politburo's report concerning the socio-economic situation and State budget in 2017, as well as tasks set for 2018. 

Politburo member and Standing Deputy Prime Minister Truong Hoa Binh delivered another report on the project on enhancing public health care. 

The session also heard reports of the Politburo summing up the CPVCC discussions on the projects on population work; reform of management and financial mechanisms, and reshuffle of public non-business agencies; and issues related to streamlining the apparatus of the political system and enhancing its efficiency and effectiveness. 

Party General Secretary Nguyen Phu Trong delivered a closing speech at the session.

He called on the whole Party, people and army to continue implementing more seriously and effectively the Resolution adopted at the 12th National Party Congress as well as resolutions of the 12th Party Central Committee, including conclusions made at this meeting, to fulfill the set targets for 2017-2018 and the following years.
VNA