Government agencies and the Ha Tinh People's Committee were assigned by the prime minister to hand in recommendations the Thach Khe iron ore mining project before October 5.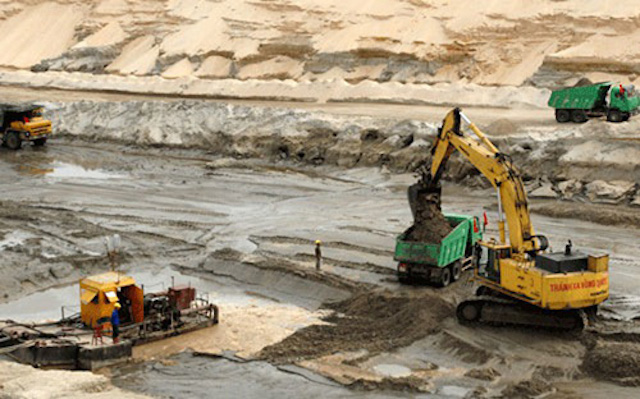 Various ministries and the Ha Tinh People's Committee are to submit recommendations by October 5
On September 21, Prime Minister Nguyen Xuan Phuc chaired a working session with the Ministry of Planning and Investment (MPI), the Ministry of Natural Resources and Environment, the Ministry of Industry and Trade (MoIT), and the Ha Tinh People's Committee, requesting a brief proposal of possible options to handle the Thach Khe iron ore mining project.

Earlier in July, MPI proposed the PM to consider allowing Thach Khe Iron JSC (TIC) to cease the mining and the steel billet manufacturing projects, the latter having a production capacity of two tonnes of billets per year.

According to MPI, one of the reasons behind the decision was that the company would prove unable to collect the envisioned returns from the project on schedule, despite having adjusted the total investment capital twice during the past three years.

In December 2014, the approved adjustment to the mining project had a total investment over VND14.5 trillion ($637.86 million), dropping to over VND13 trillion ($571.87 million) in April 2016, of which the first mining phase had an investment capital worth over VND6.6 trillion ($290.33 million).

In March 2017, MPI suggested that the company re-evaluate the business's economic efficiency, recommending to reduce the project investment to roughly VND12.2 trillion ($536.68 million).

Besides, only Hoa Phat Group signed a sales and purchase agreement with TIC, committing to purchase three tonnes of iron ore per year between 2017 and 2021. However, the group did not specify any commitments for the period of 2022-2027. Therefore, the long-term plan on iron ore consumption stays uncertain.

Meanwhile, Taiwanese Formosa Plastics Group's $10 billion steel complex in the province has a total iron ore demand of 7-14 million tonnes per year, but has no intentions of placing orders with Thach Khe deposit.

In addition, there have been concerns about the project's impact on the environment, like groundwater level depletion, salinisation, desertification, landslides, among others, negatively affecting crop production and local households. Ecosystem-related consequences could be immeasurable. Another impact of the project that should be taken into account is that millions of dollars were lost due to implementation inefficiencies.

Talking about environmental issues, MoIT asserted that the above environmental concerns have been covered in the technical design appraisal report. Domestic and foreign experts have offered solutions in the report as appropriate.

However, MoIT also suggested that TIC continue carrying out studies on hydrogeology, geotechnical engineering, and karst caves, as well as updating the national database on climate change, earthquakes, and tsunamis in order to complement the plan of protecting the environment.
VIR