Party General Secretary Nguyen Phu Trong has applauded the establishment of the Myanmar-Vietnam Friendship Association in July this year and asked the association to help with the realization of bilateral agreements.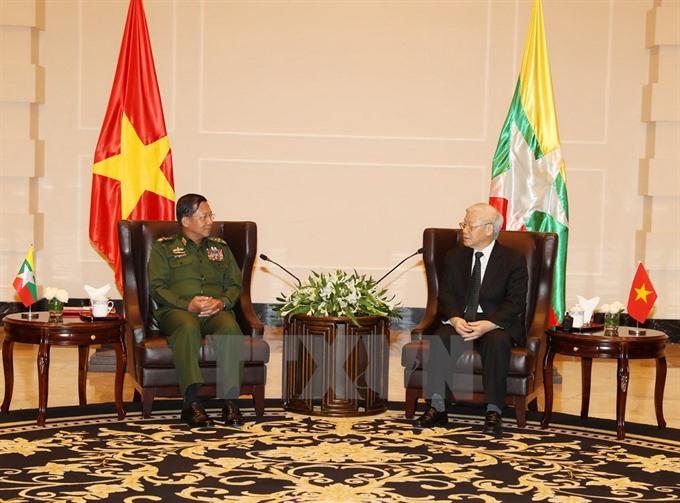 Trong made the statement at a meeting with Chairman of the association U Tint Swai in Yangon on August 26, as part of his current State visit to Myanmar.
He told his host that Vietnam greatly values Myanmar's support during its past struggle for national independence, noting that his current visit aims at elevating bilateral relations to new heights.
Both sides have issued a joint statement on establishing a comprehensive cooperative partnership to reinforce cooperation in politics, trade, security-defence, and people-to-people exchanges, as well as at regional and international forums, he said.
Trong said he hopes that the two countries' friendship associations will share experiences and intensify people-to-people exchanges to deepen mutual understanding and amity between the two nations.
For his part, U Tint Swai expressed his delight at growing Vietnam – Myanmar relationship, saying his association needs to learn from Vietnamese partners through experience exchanges on international cooperation.
He said his organisation plans to admit Vietnamese investors in Myanmar as members and to work with its Vietnamese counterpart to enhance bilateral friendship activities.
Earlier the same day, Party General Secretary Nguyen Phu Trong visited the Shwedagon Pagoda, the most sacred Buddhist pagoda in Myanmar.
VOV