Vietnam and Indonesia discussed specific measures to advance their friendship and multi-faceted cooperation during the seventh meeting of the joint committee on economic, scientific and technological cooperation in Hanoi on August 12.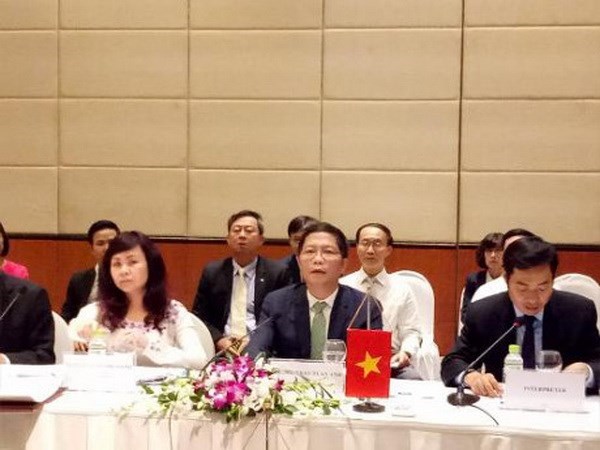 Vietnamese Minister of Industry and Trade Tran Tuan Anh (centre, front) co-chairs the meeting
Accordingly, they will prioritise collaboration in trade, industry, energy, natural resources, minerals, investment, agriculture, forestry, fishery, transport, construction, education, culture, tourism, finance, banking, information and communications. 
Minister of Industry and Trade Tran Tuan Anh said the two sides also agreed to increase the exchange of delegations, information and experience in management and development, while working together to build new cooperation frameworks in various realms. 
Besides, they will tighten cooperation to remove difficulties hindering the bilateral ties and encourage connectivity between their private economic sectors in order to fully tap their potential.
Minister Tuan Anh and Indonesian Trade Minister Enggartiasto Lukita signed the minutes of the meeting. 
According to the Vietnamese Ministry of Industry and Trade's Asia-Pacific Department, Indonesia is the world's 16th largest economy and the largest market in Southeast Asia. 
Despite global and regional economic uncertainties over the past time, trade between Vietnam and Indonesia has made significant strides, the department said. 
Indonesia is Vietnam's fourth largest trade partner in the Association of Southeast Asian Nations (ASEAN), with two-way trade expanding from 4.6 billion USD in 2012 to 5.6 billion USD in 2016, and an annual average growth rate of about 5 percent. 
In 2016, export and import revenues between the two countries reached 2.6 billion USD and 3 billion USD, respectively. 
Bilateral collaboration in other fields like agriculture, investment, finance, banking and transport has also made new progresses.
VNA