The National Assembly's Standing Committee (NASC) on Thursday rubbished a proposal to abandon a criminal records form, stressing its irreplaceable role in criminal investigations.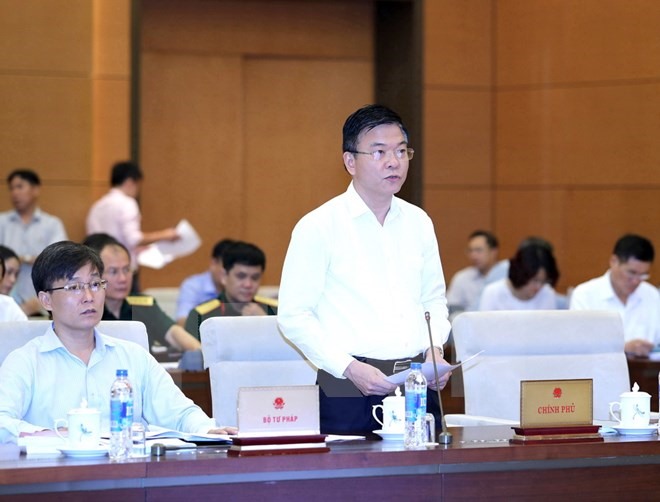 Minister of Justice Le Thanh Long at the meeting of the National Assembly's Standing Committee (NASC) on Thursday.
The proposal, which suggested eliminating criminal record form No 2, was a part of amendments to the Law on Judicial Records and was the topic of discussion during the second meeting day of the NASC.
The law came into effect in July 2010, and parts of it are unsuitable with developments in society and other legal documents like the Constitution 2013, the Penal Code and the Penal Procedure Code both issued in 2015, said Minister of Justice Le Thanh Long at the meeting.
He said the ministry planned to amend 15 articles, supplement three more and discard seven articles and one clause.
The current judicial records law regulates the issuance of two types of criminal records forms. Both the forms are granted at the municipal Department of Justice or the National Centre for Criminal Records. Form No 2 includes even deleted criminal convictions and is provided only to judicial units to assist investigations and prosecutions, or to a person requesting their own criminal record.
The Ministry of Justice, which drafted the proposal, argued that granting form No 2 to individuals wasted time and money.
It also contradicted the right to privacy as stated in the Constitution 2013 and diminished the chances of rehabilitation of those with deleted convictions, the law drafters said, as employers could request workers to submit their criminal records.
The NASC, however, said that the form was an essential tool to assist judicial procedures.
They also argued that eliminating the form might cause troubles for many citizens with no history of criminal convictions, especially when they need to prepare documents for studying abroad, marrying a foreigner, working abroad or emigrating.
"I don't agree with the so-called 'taking advantage' as the drafters said. I wonder if the ministry asked for such a change because the issuance workload was too much without enough staff," said National Assembly Deputy Chairman Phùng Quốc Hiển.
National Assembly Deputy Chairman Uong Chu Luu, who chaired the meeting, said that the justice ministry and the National Assembly's Commission on Judicial Affairs should further discuss the issue and report to NA Chairwoman Nguyen Thi Kim Ngan.
VNS