Chairman of the Cuban National Assembly Esteban Lazo Hernandez visited the northern mountainous province of Son La on June 14 as part of his official visit to Vietnam.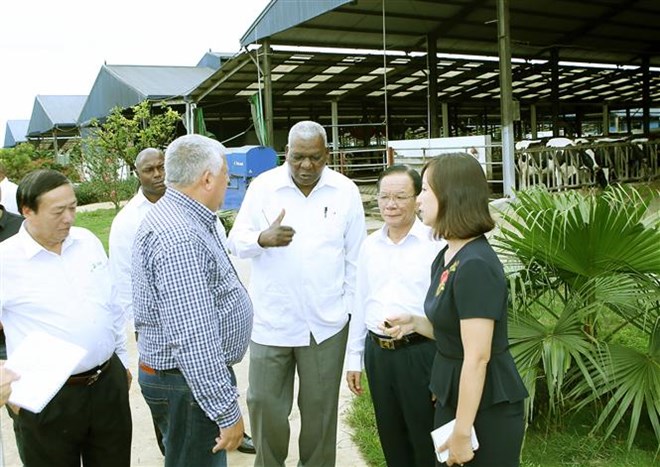 Cuban National Assembly Esteban Lazo Hernandez visits Moc Chau Dairy Farm in Son La province
Receiving the Cuban top legislator, Secretary of the Son La provincial Party Committee Hoang Van Chat appreciated the support of the Communist Party of Cuba and the Cuban Government for the province through developing the Moc Chau Dairy Farm during 1975-1976.
At present the Moc Chau Dairy Cattle Breeding JSC has a herd of nearly 22,000 cows, most of them are the 11th generation of the initial 884 heads of cow presented by Cuba, he said. 
The herd produce more than 90,000 tonnes of fresh milk each year, and Moc Chau dairy products are sold in 46 cities and provinces nationwide, bringing in 2.33 trillion VND (102 million USD) in revenue. 
For his part, Esteban Lazo Hernandez applauded socio-economic achievements Son La has recorded over the past time as well as the performance of the provincial People's Council, the People's Committee and political-social organisations in the locality. 
The chief legislator briefed his host on Cuba's situation, the national vision and the operation of the Cuban legislature.
He took the occasion to call on Vietnamese businesses to invest in Cuba in the time ahead. 
While in Son La, Esteban Lazo Hernandez visited the TMR cow feed processing plant and Moc Chau Milk Factory. 
Earlier the same day, the Cuban NA Chairman paid floral tribute to President Ho Chi Minh at his mausoleum in Hanoi.
He also laid a wreath at a memorial dedicated to Cuban national hero Jose Marti in Hoan Kiem district, Hanoi.
VNA