Minister of Health Nguyen Thi Kim Tien said her ministry will do its utmost to improve grassroots-level healthcare network as the government already approved a resolution on the plan.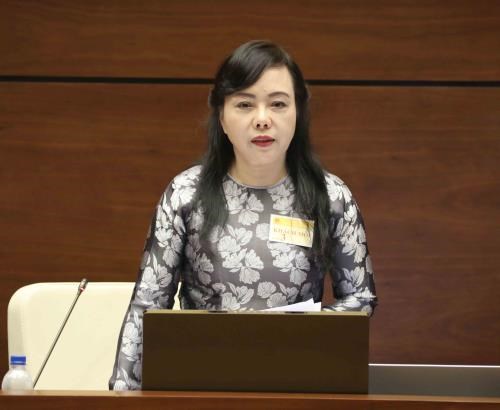 Minister of Health Nguyen Thi Kim Tien
At the National Assembly's question and answer session on June 14, Minister Tien said the Ministry of Health had carefully prepared for the plan on investment and development of grassroots-level healthcare establishments.
Regarding the query of deputy Nguyen Thi Le Thuy from southern Ben Tre province on the role of commune medical stations, Tien acknowledged that there is a shortage of commune clinics, while the quality of existing ones remains poor. The arrangement of clinics remains inappropriate as there are many clinics close together in certain plain districts while it takes residents in isolate and mountainous areas up to half a day to reach a clinic where equipment for primary healthcare is also insufficient.
About the reform and promotion of grassroots healthcare establishments raised by deputy Cao Thi Giang of Quang Binh province, Minister Tien said the sector will focus on grassroots healthcare in this tenure, adding that the international community has recognised Vietnam's achievements in the field, including the network's spreading to hamlets and villages, the reduction of maternal and infant mortality rates, and criteria relating to longevity and nutrition.
The grassroots healthcare network has done a good job in primary healthcare despite limited resources, she noted.
In the time ahead, the Ministry of Health will take solutions to improve the apparatus, manpower, finance, infrastructure and operations of grassroots healthcare establishments. It will coordinate with the World Health Organisation (WHO) to set up rapid response teams and map the location of more than 10,000 commune-level medical stations nationwide, the minister added.
Deputy Le Quan of Hanoi argued that grassroots healthcare clinics, especially in urban areas, have been equipped relatively well but the efficiency is still low. Meanwhile, many doctors have had to rent medical establishments at high expenses.
Vietnam should learn from developed countries' experience where competent doctors are allowed to make use of grassroots-level clinics to provide medical services, thus attracting patients and helping to ease pressure on health insurance, he added.
During the session, Minister Tien was also grilled about solutions to improve the quality of medical checks-up and treatment along with medicine prices and supply.
VNA