The fourth Vietnam-China border defence friendship exchange programme will be held in the northern bordering province of Lai Chau and Yunnan province of China from June 20-22, Major General Nguyen Dai Hoi, deputy head of the Defence Ministry's Department for Foreign Affairs said on June 13.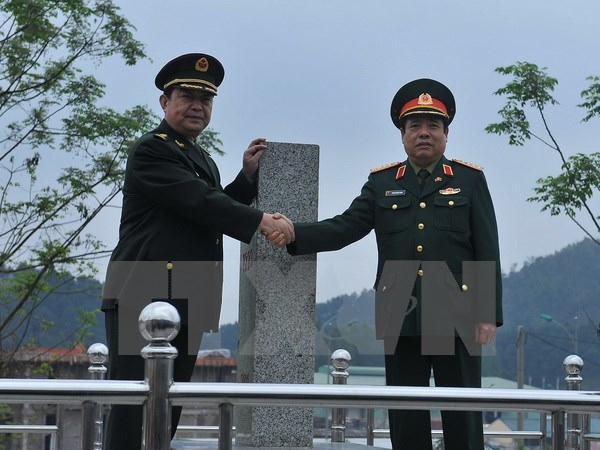 Defence leaders of Vietnam and China at the border marker 1223 in Chi Ma Border Gate during the third  Vietnam-China border defence friendship exchange programme
Politburo member and Vice Chairman of the Chinese Central Military Commission of the Communist Party of China Senior Lieutenant General Fan Chang Long will pay an official visit to Vietnam from June 18-19 and then co-chair the exchange programme with General Ngo Xuan Lich, who is Politburo member, Defence Minister, and Deputy Chairman of the Central Military Commission, Hoi said.
The programme aims to foster friendship and solidarity between local governments, people and border guard forces, thus enhancing political trust and strengthening ties between the two countries and armies.
The programme comprises various activities, including a seminar and culture-art exchange, the inauguration of the Vietnam-China Friendship and Culture House, and a conference to review the two-year twin relations between villages of Lai Chau and China's Yunnan province.
A joint drill on combating cross-border crime between the two sides will also be held for the first time, he said.
Major General Hoi said that defence cooperation forms a significant part of the Vietnam-China comprehensive strategic partnership.
Leaders of the two Defence Ministries have agreed to increase mutual trust and understanding, fostering the defence ties through many cooperation mechanisms and forms.
The first Vietnam-China border defence friendship exchange programme was held in 2014 in Mong Cai and China's Dong Xing, the second took place in Lao Cai in 2015 and the third in Lang Son in 2016.
The two sides signed a cooperation agreement on establishing a coordination mechanism between the Ministry of Defence of Vietnam and China's Ministry of Public Security, aiming to strengthen bilateral affiliation in fighting cross-border crimes, and maintaining security and order in the shared border.
VNA