The upcoming visit to China by President Tran Dai Quang provides an important opportunity for Vietnamese and Chinese top leaders to continue their strategic discussion on Party and State relations as well as issues of common concern.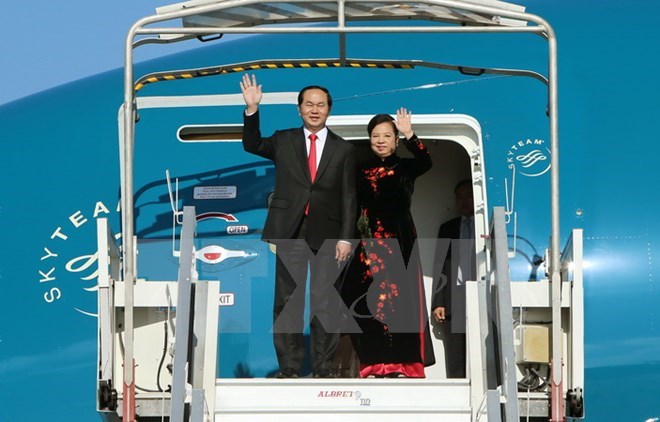 President Tran Dai Quang and his spouse to visit China from from May 11-15
Vietnamese Ambassador to China Dang Minh Khoi made the remark in an interview granted to Vietnam News Agency ahead of the President's State-level visit to China and attend the high-level forum on the Belt and Road Initiative from May 11-15.
According to the Ambassador, President Quang is scheduled to hold talks with General Secretary of the Communist Party of China and President of China Xi Jinping and meet with many key leaders of China during the trip.
On the occasion, Vietnam and China will hold a workshop on bilateral economic-trade cooperation in 2017 with the participation of nearly 500 businesspeople. 
The visit takes place when the two countries' relations have been incessantly reinforced and enhanced across the board. 
Ambassador Khoi noted that along with the sound political relations, Vietnam and China have recorded encouraging outcomes in cooperation in economics, trade, investment and tourism, thus bringing practical benefits for the two peoples.
Two-way trade increased to 72 billion USD in 2016 from 9.9 billion USD in 2006 (according to Vietnamese statistics) and 98 billion USD (according to Chinese statistics).
China has been the biggest trade partner of Vietnam over the past 13 consecutive years, while Vietnam has become the largest ASEAN trade partner of China.
China's investment in Vietnam reached 1.8 billion USD in 2016 and 684 million USD in the first quarter of 2017, ranking second among countries investing in Vietnam, and making up 23.4 percent of the total foreign direct investment (FDI) inflow in the country.
The two countries have also expanded collaboration in education, tourism, and culture. Various activities have been held to increase people-to-people exchanges such as the Vietnam-China youth festival and youth friendship meeting.
More than 10,000 Vietnamese students are studying in China, whilst China has over 3,000 students pursuing education in Vietnam.
China is also among the largest tourism markets of Vietnam with 2.8 million tourists in 2016. Vice versa, Vietnam is leading ASEAN in the number of holidaymakers to China, which almost topped 2 million in 2016.
The two sides have also closely coordinated in the management of land border and strictly implemented legal documents on land border and delimitation of the Gulf of Tonkin. They have strengthened cooperation in building, managing and opening border gates, and applied measures to facilitate customs clearance, maintain security and stability in the shared border areas.
According to the Ambassador, Vietnamese and Chinese leaders have maintained regular and candid discussions on maritime issues. 
He said the two sides agreed to pursue friendly negotiations on the basis of bilateral common perception and international law, to seek fundamental, long-term solutions acceptable to both sides to address marine matters, while implementing comprehensively and fully the Declaration on the Conduct of Parties in the East Sea (DOC), working with ASEAN to early build a Code of Conduct in the East Sea (COC), and effectively controlling disputes at sea to maintain peace and stability in the East Sea.
As a neighbouring country with traditional friendship and as an important trade economic partner of China, Vietnam pledged to support China's hosting of the high-level forum on the Belt and Road Initiative, which will see the presence of government leaders from 28 countries.
The Vietnamese and Chinese Party and State leaders also agreed to actively promote the bilateral strategic connectivity, including the "Two Corridors, One Belt" framework and the "One Belt, One Road" initiative, the Ambassador said, noting that it will contribute to creating positive changes and enhancing the effectiveness of economic-trade partnership between the two countries.
VNA