PM Nguyen Xuan Phuc and his spouse officially begin their official visit to the Kingdom of Cambodia from April 24-25 at the invitation of his Cambodian counterpart Samdech Techo Hun Sen.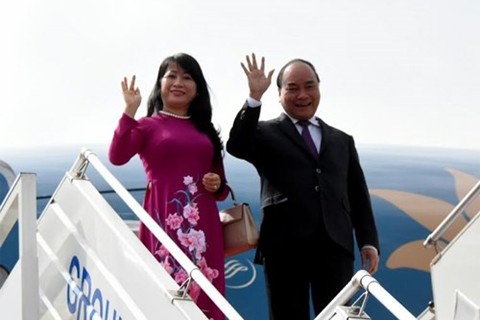 PM Nguyen Xuan Phuc and his spouse
The couple are accompanied by Minister-Chairman of the Government Office Nguyen Chi Dung; Minister of Industry and Trade Tran Tuan Anh; Minister of Transport Truong Quang Nghia; Deputy Minister of National Defense Nguyen Chi Vinh; Deputy Minister of Public Security Bui Van Nam; Vietnamese Ambassador to Cambodia Thach Du.
This is the first official Cambodia trip of PM Nguyen Xuan Phuc since he took office. The event was also an important event to welcome the Viet Nam-Cambodia Friendship Year in 2017.
The event also targeted to beef up the good neighborly relations, traditional friendship, comprehensive cooperation and long-lasting ties between the two countries in the new international situation.
Viet Nam currently has 190 investment projects with a total registered capital of US$ 2.89 billion in Cambodia, focusing on agriculture and forestry. Cambodia's investment in Viet Nam has also been on the rise, with 18 projects worth US$ 58.125 million at present.
Bilateral trade surpassed US$ 2.9 billion in 2016 and is estimated at US$ 936 million in the first quarter of 2017, a year-on-year increase of 11.6%. The Q1 figure consists of US$ 582 million of Vietnamese exports, up 8.9%, and US$ 354 million worth of Cambodian goods, up 16.2% from a year earlier. 
About 960,000 Vietnamese people visited Cambodia and 212,000 Cambodians spent holidays in Viet Nam last year. That made Viet Nam the biggest source of foreign tourists to Cambodia, which in turn ranks 13th in the number of arrivals to Viet Nam.
Cooperation between the two sides' ministries, sectors, localities and organizations have been reinforced through delegation exchanges, mutual support in economic development, collaboration in health care and culture, and people-to-people exchange, thus helping to maintain peace, stability, friendship and cooperation along the shared borderline.
The two countries are proactively coordinating to mark the 50th anniversary of diplomatic ties (June 24, 1967-June 24, 2017).
As scheduled, PM Phuc will hold talks with his Cambodian counterpart Samdech Techo Hun Sen, meet with Cambodian King Norodom Sihamoni, President of the Senate of Cambodia Samdech Say Chhum, and Cambodia's National Assembly President Samdech Heng Samrin.  
VGP