Ho Chi Minh City has been providing all possible support for the Fulbright University Vietnam (FUV) project in the city, Chairman of the municipal People's Committee Nguyen Thanh Phong assured Chairman of the Trust for University Innovation in Vietnam (TUIV) Thomas Vallely during a reception on March 28.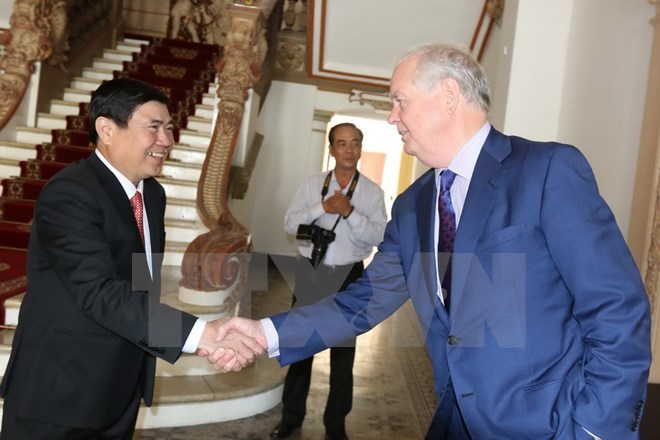 Chairman of the municipal People's Committee Nguyen Thanh Phong (L) and TUIV Chairman Thomas Vallely 
Phong asked the municipal authorities to continue working closely with the TUIV to launch the project. 
Speaking highly of Fulbright University's important role in human resources training in Vietnam and Ho Chi Minh City in particular, Phong suggested that the Vietnam Executive Leadership Programme (VELP) for the city should focus on helping the city improve its competitiveness and become an economic, trade and financial centre in the region. 
Vallely, who is also Director of the Vietnam Programme at Harvard University, informed the host that the project is in the preparatory period. 
He expressed hope that upon operational, the FUV will contribute to renovating tertiary education in Vietnam via launching appropriate training and governance models.  
The guest said the VELP is a partnership between Harvard University and the city in order to help with devising strategic policies for its development. 
The FUV project has a total capital of nearly 70 million USD and is headquartered in the Saigon Hi-tech Park.
VNA