Hanoi officials shared experience in administrative reforms with officials of Laos's Vientiane capital city at a discussion on March 27.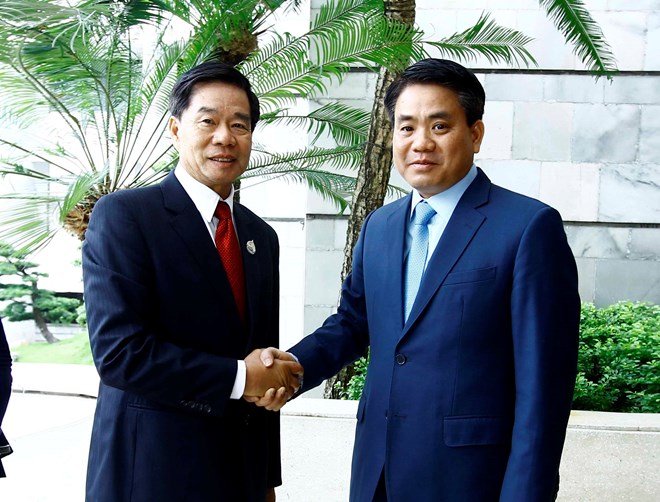 Chairman of the Hanoi People's Committee Nguyen Duc Chung (R) welcomes Vientiane Governor Sinlavong Khoutphaythoune
Vientiane Governor Sinlavong Khoutphaythoune said Laos has just begun administrative reforms while Hanoi has obtained initial outcomes in this work. Vientiane wants to learn from Hanoi's experience to build a synchronous and modern administration, thus helping to promote local socio-economic development.
Chairman of the Hanoi People's Committee Nguyen Duc Chung said the capital city considers administrative reforms as one of the three breakthroughs to be achieved between 2016 and 2020. Information technology is the main tool to carry out administrative reforms with a view to improving the management, steering and effectiveness of the apparatus.
By the end of 2016, Hanoi had basically finished reorganising departments and public service companies and eliminating old IT programmes. It has also designed a single IT system used by the municipal level and 584 communes, wards and towns.
As a result, Hanoi ranked second in IT application in administrative reforms and climbed to the 14th place in terms of the provincial competitiveness index among 63 provinces and cities nationwide.
Administrative reforms have also helped to attract investment, Chung said, elaborating that in 2016, foreign investment was estimated at 3.11 billion USD, almost 4 times higher than in 2015. Meanwhile, the city is the top destination for domestic investment with a total registered capital of 439 trillion VND (19.27 billion USD).
He said Hanoi is willing to assist Vientiane in administrative reforms and IT training for public officials and civil servants. It will also help the capital city of Laos to establish an institute for social studies and build a roadmap for bilateral cooperation.
Lao capital treasures Hanoi's assistance
Hanoi's party committee has provided significant assistance to the development of Vientiane, affirmed Sinlavong Khoutphaythoun, Secretary of the Party Committee and Governor of the Lao capital.
At a meeting with Secretary of the Hanoi Party Committee Hoang Trung Hai in Hanoi on March 26, the Vientiane leader singled out a number of typical cooperation projects examples of Hanoi's valuable help, including the Vientiane – Hanoi friendship school and the dormitories of the Academy of Politics and Public Administration in Vientiane.
He proposed that Hanoi help with the marketing of Lao farming produce in Vietnam and accelerate the building of a Vientiane trade centre in Hanoi and a Hanoi trade centre in Vientiane.
Sinlavong Khoutphaythoun also noted the growing flow of visitors between the two capital cities, adding that most of the tourists travel on their own. He suggested the two sides conduct joint research to develop tours and tourism promotion centres in their respective countries.
The Vientiane leader took the occasion to invite Hanoi's officials to a tourism conference of Mekong countries which will be held in Laos next year.
He also asked the Vietnamese capital city for further support and experience exchange in running all-level people's councils, administrative reform and human resources training.
Agreeing with his guest, Secretary Hoang Trung Hai said information liaison and experience exchange are necessary for deepening engagements.
Hanoi always considers relations with Laos and Vientiane an integral part of the city's external relation policy, he stressed, highlighting various joint activities in the framework of the memorandum of understanding signed between Hanoi and Vientiane in September 2015 on bilateral cooperation.
VNA