The Vietnamese Embassy in Ukraine hosted a banquet in Kharkov city on March 22 to mark the 25th anniversary of Vietnam-Ukraine diplomatic relations (January 23, 1992-2017).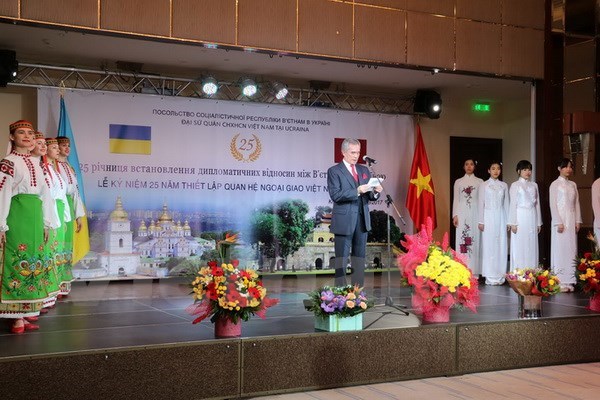 Vietnamese Ambassador to Ukraine Nguyen Minh Tri speaks at the event
The event was attended by Governor Yulia Svetlychnaya and other senior officials of Kharkov province, Ukrainian veterans and experts who once worked in Vietnam, officials from the Vietnamese Embassy in Ukraine and Vietnamese expats in the province and neighbouring areas.
Vietnamese Ambassador to Ukraine Nguyen Minh Tri affirmed that the Vietnam-Ukraine traditional friendship has been nurtured and fostered by generations of the two countries' people.
Vietnam always remembers Ukraine's significant assistance during the national protection and building, he said, highlighting that the establishment of diplomatic ties 25 years ago affirmed the determination of the two governments to promote all-round ties.
In the past decades, the two countries have enjoyed remarkable achievements in bilateral relations, which were lifted to comprehensive strategic partnership and cooperation, Tri stressed.
He pinned his hope that the bilateral ties will undergo further stellar development for the benefits of the nations, thus improving their positions in the region and the world.
For her part, Svetlichnaya and Kharkov leaders praised Vietnamese people for overcoming difficulties to gain independence and develop.
They said they want to consolidate and promote the traditional relations and cooperation in the coming time. 
On the occasion, the guests enjoyed Vietnamese traditional food, Ukrainian songs and Vietnamese dances as well as visited a photo exhibition capturing milestones in bilateral diplomatic ties in the past 25 years.
VNA