VietNamNet Bridge – The Government should tighten its grip on overfishing as the seafood capacity in the Vietnamese sea is nearing exhaustion, a top military official said on Tuesday.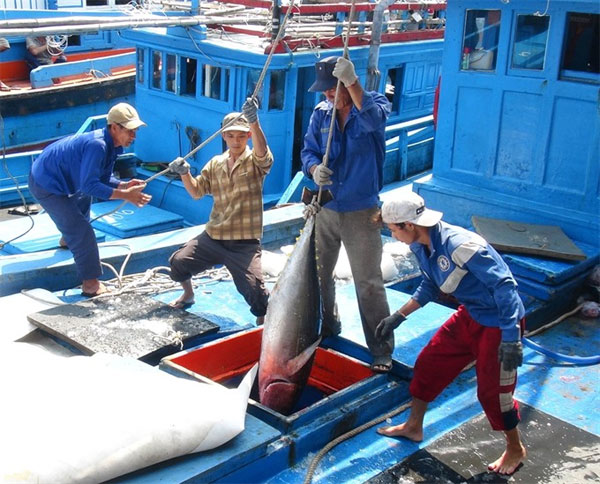 Workers take tuna from a maintenance cellar for sale. A top military official has called for a tighter grip on overfishing from the Government. – Photo: VNA/VNS 
Senior Lieutenant-General Pham Ngoc Minh, Vice Chief of General Staff of the Viet Nam People's Army and Vice Chairman of the National Committee for Search and Rescue, raised his concerns over the alarming situation as he commented on the draft of the amended Law on Fisheries during a meeting of the National Assembly Standing Committee (NASC).
"We used to catch a lot of fish whenever we went out to sea in the old days. But now all the sea – Bach Long Vy, Truong Sa or Phu Quoc - was empty of fish," Minh said.
Vietnamese fishers use all kind of means, from explosives to electricity or toxic substances, to catch great quantities of fish as fast as possible. "That's why now our fishermen have to fish in overseas waters, and get caught," he said.
Since the start of the year, 16 Vietnamese fishing ships detained by neighbouring countries like Australia, Papua New Guinea, Malaysia and Cambodia for illegal fishing, Minh said.
The Senior Lieutenant-General, with some 30 years spent at sea, asked that the amended Law on Fisheries clearly lay out the State's responsibilities in planning and regulating specific areas allowed for fishing. He also asked authorities to issue fishing quotas to manage the overfishing.
National Assembly National Defence and Security Committee Chairman, Senior Lieutenant-General Vo Trong Viet, also expressed concern about overfishing, blaming it on lack of exploitation bans to preserve resources. "In other countries, even in China, fishing is banned during breeding season. Any violations are strictly punished," Viet said.
"In Viet Nam, meanwhile, the ban is rather unclear, allowing fishermen to sail to sea for fishing even during the (breeding) season. That's what led to the fish exhaustion,"
Firefighting co-operation
Also yesterday, the NASC agreed to issue a Governmental decree to improve the performance of the firefighting forces following growing fire risks due to rapid urbanisation.
According to the NASC, there were 444,311 incidents including fires, explosions, traffic and labour accidents between 2001 and 2015. At least 177,587 people were killed and 343,340 were injured.
The highest-level legal document regulating the rescue work of the firefighter force is a decision issued by former Prime Minister Nguyen Tan Dung in 2012. However, it falls short of clearly stating specific responsibilities of organisations and individuals in rescue work, leading to confusion and lack of co-operation between different forces, according to the NASC.
Tuesday also marked the close of the NASC's 8th session. The next one is set for April. 
VNS