Vietnam's relations with the US and Israel were the focus of a recent diplomatic reception held by the Vietnamese Embassy in the US and the Asia Pacific Institute of the American Jewish Committee (AJC).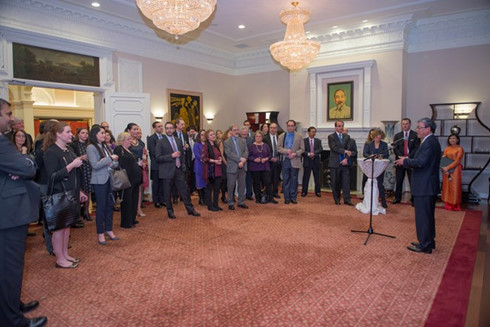 vietnam's relations with us, israel spotlighted at embassy's reception hinh 0 The event on March 7 was attended by strategist Adam Lovinger at the US National Security Council, Political Counsellor of the Israeli Embassy in the US Einat Weiss, AJC Associate Executive Director for Policy Jason Isaacson, and Director of the Asia Pacific Institute Shira Loewenberg.
Participants shared information and experience in enhancing Vietnam-US and Vietnam-Israel relations, particularly in economy, trade, investment, science-technology, and education, affirming that the ties are growing.
They spoke highly of the Doi moi (Reform) achievements in the Southeast Asian nation and pledged to closely coordinate with the Vietnamese Embassy to promote connections with the US.
In his speech, Vietnamese Ambassador to the US Pham Quang Vinh thanked the Asia Pacific Institute and the AJC for their cooperation. He highlighted the progress in his country's collaboration with Israel in trade, science-technology, training, and agriculture.
Israel is a leading Middle Eastern partner of Vietnam and also a startup nation example that Vietnam wants to follow, he said, adding that the upcoming visit to his country by Israeli President Reuven Rivlin will be a chance for both sides to strengthen links in various spheres. 
With regard to the Vietnam-US relationship, Vinh affirmed the two sides will continue to beef up their comprehensive partnership in a substantive, effective and stable manner.
Vietnam is hosting the Asia-Pacific Economic Cooperation (APEC) this year under the theme "Creating New Dynamism, Fostering A Shared Future". It will work closely with the US's administration, Congress and businesses and other member economies to ensure the success of the APEC Vietnam 2017, he added.
VNA