Vietnamese and Lao legislators shared experience in management decentralisation from central to grassroots levels during a workshop held in Hanoi on March 7.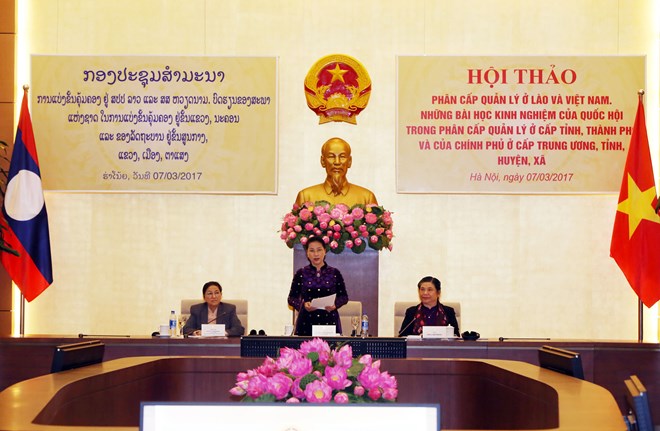 National Assembly Chairwoman Nguyen Thi Kim Ngan  (centre) speaks at the workshop
Lao National Assembly Chairwoman Pany Yathotou and Vietnam National Assembly Vice Chairwoman Tong Thi Phong co-chaired the event, which demonstrates the role and duties of the two countries' legislatures in State management.
Phong said Vietnam promulgated the Law on Local Government Organisation in 2015 to address shortcomings in the 2003 Law on Organisation of the People's Councils and People's Committees, and reform activities of local authorities to promote their autonomy, self-responsibility, and management efficiency.
Pany Yathotou said Laos has gained significant outcomes in the field and hoped to exchange more experience with Vietnamese delegates to finalise policies and documents.
During the workshop, Vietnamese and Lao delegates talked about the legal document system on the apparatus of elected and administrative bodies and governments in the respective countries.
Addressing the event, Vietnam's National Assembly Chairwoman Nguyen Thi Kim Ngan said the workshop is one of the important political activities in early 2017 to mark the 55th founding anniversary of Vietnam – Laos diplomatic ties and the 40th anniversary of the signing of the Vietnam – Laos Treaty of Amity and Cooperation.
This is the second symposium in the 14th tenure of Vietnam's National Assembly and the eighth tenure of the Lao National Assembly, she said, noting that the first one was jointly hosted by the two countries' legislatures in Laos in September 2016, focusing on the public debt management.
The co-organisation of such event is expected to improve the cooperation efficiency between Vietnam and Laos, especially in law-building, she added.
She stressed the need to increase the State's operational quality and efficiency as well as clearly define the mechanism, authorities, and responsibilities of State-run agencies in exercising legislative, executive, and judicial powers.
Vietnamese and Lao top legislators agreed to entrust the NA Committees for External Relations to host more symposia in the coming time to strengthen cooperation between the two law-making bodies and further promote the two countries' traditional friendship, special solidarity and comprehensive cooperation.
VNA