Strengthening comprehensive cooperation with Thailand, including in the field of defence, is one of the priorities of Vietnam, affirmed Defence Minister Ngo Xuan Lich at a meeting with Thai Prime Minister Prayut Chan-ocha in Bangkok on February 22.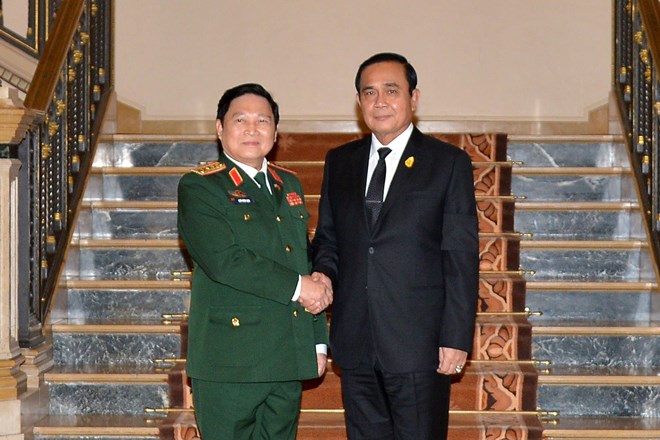 Defence Minister Ngo Xuan Lich (L) meets with Thai Prime Minister Prayut Chan-ocha
The minister is on an official visit to Thailand from February 21-23.
Minister Lich told the Thai PM that the Vietnamese defence ministry will continue working closely with the Thai counterpart, contributing to the two countries' strategic partnership established in June 2013.
The minister expressed thanks to the Thai Government for assistance to Vietnam in acquiring information about the graves of Vietnamese fallen soldiers in Nong Khai province, and asked PM Prayut Chan-ocha to instruct Thailand's ministries and localities to continue to help Vietnam repatriate the remains of those fallen soldiers. He also expressed his hope that Thailand will provide information it has on Vietnamese servicemen who died or went missing during the wartime.
PM Prayut Chan-ocha said Vietnam and Thailand are neighbouring countries with good relations and high mutual trust, while their bilateral ties are developing across the fields, including in defence.
The two countries do not share land border areas, but have maritime boundaries, he said, calling on the two sides to develop their neighbourly relations and promote ties with other ASEAN countries to maintain the bloc's solidarity and central role.
He also suggested increasing the partnership between the two armies and seeking new areas for cooperation. 
The PM pledged to direct ministries and agencies to step up coordination with Vietnam to address issues relating to fishermen, based on international law and the bilateral friendly relations.
Earlier the same day, Minister Lich held talks with Thai Deputy Prime Minister and Minister of National Defence Prawit Wongsuwan, during which the two sides agreed to increase the exchange of visits, meetings of young officers, and cooperation between navy and air forces as well as in training. 
The two sides also agreed to organize deputy ministerial-level defence policy dialogue and set up a hotline between the two defence ministries.
They pledged to boost collaboration between marine law enforcement forces and actively seek affiliation in the fields of mutual concerns such as cooperation between border management agencies, participation in the UN peacekeeping activities and humanitarian mine action.
Both sides vowed to actively consult and support each other at multilateral forums, especially within the framework of the ASEAN Defence Ministers' Meeting (ADMM) and ADMM+.
The two ministers said they will urge relevant forces of their countries to work together to educate fishermen in respecting international law and law in other countries.
VNA