More than 170 domestic and international reporters have registered to report news at the first Senior Officials' Meeting of APEC (SOM 1) and related meetings scheduled for February 18-March 3 in Nha Trang city in the south central province of Khanh Hoa.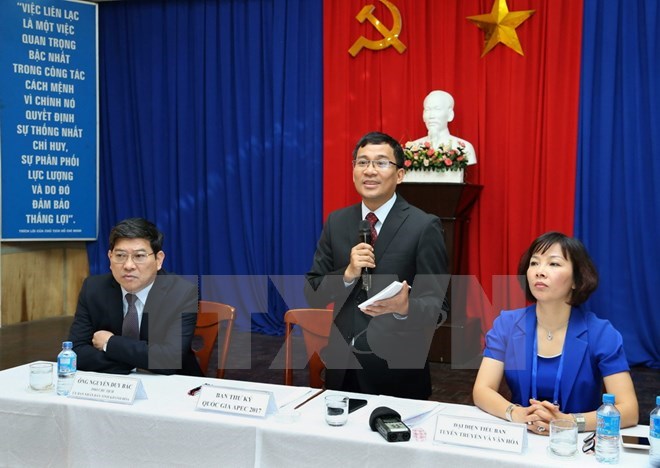 Deputy head of the APEC National Secretariat Nguyen Minh Vu
The APEC National Secretariat and the Ministry of Foreign Affairs announced the information on February 17, saying the province has set up a press centre in Nha Trang city to serve reporters.
Over 1,700 delegates are expected to engage in SOM 1, which includes 56 meetings, workshops, and dialogues of 38 committees and working groups in various fields such as trade and investment liberalisation, business facilitation, climate change adaptation, human resources development, education, fisheries, e-commerce, and services.
Deputy head of the APEC National Secretariat Nguyen Minh Vu said the event aims to seek solutions to boost economic growth for the 21 member economies and deepen their economic connectivity.
Delegates will also discuss priorities for APEC cooperation in 2017 and outline orientations for APEC activities. 
Deputy Foreign Minister Bui Thanh Son, who is also Chair of SOM APEC 2017, will preside over the first senior officials' meeting and the meeting of Chairman's Friends Meeting on connectivity.
Vietnam joined APEC in 1998, and hosted APEC in 2006, which laid a foundation for Asia-Pacific free trade areas. 
Established in 1989, APEC now comprises 21 economies, namely Australia; Brunei; Canada; Chile; China; Hong Kong, China; Indonesia; Japan; the Republic of Korea; Malaysia; Mexico; New Zealand; Papua New Guinea; Peru; the Philippines; Russia; Singapore; Chinese Taipei; Thailand; the United States; and Vietnam.
VNA