President of Ireland Michael D. Higgins concluded his State-level visit to Vietnam from November 5 – 14 at the invitation of his Vietnamese counterpart Tran Dai Quang.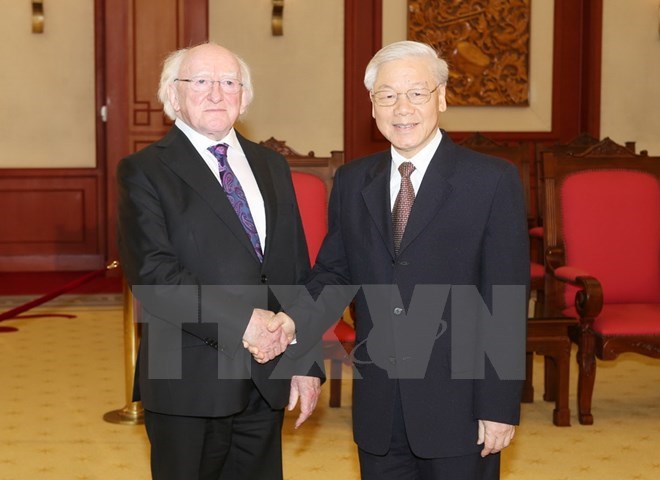 President of Ireland Michael D. Higgins (L) meets with Party General Secretary Nguyen Phu Trong 
During his trip, the Irish President had talks with President Quang and met with Party General Secretary Nguyen Phu Trong, Prime Minister Nguyen Xuan Phuc, and National Assembly Chairwoman Nguyen Thi Kim Ngan.
At the talks and meetings, the two sides expressed their satisfaction at the thriving bilateral relations and agreed to step up cooperation in potential and mutually beneficial fields such as trade-investment, education-training, green technology, renewable energy, agriculture, health, and sustainable development.
They were unanimous to increase all-level delegation exchanges, create favourable conditions for and encourage businesses to cooperate in renewable energy, agriculture and food processing, information-communication, health, and aviation, especially when the EU-Vietnam Free Trade Agreement is going to be signed and enforced.
Both nations defined education-training as a focus of cooperation in the coming time, hence they encouraged universities to forge partnership and boost culture and art exchange activities.
President Michael D.Higgins revealed that Ireland will soon announce the national strategy on development cooperation with Vietnam in the 2017-2020 period.
The two countries agreed on the significance of keeping peace and security and enhancing international cooperation. They said they will continue close coordination at global forums such as the United Nations, the Asia-Europe Meeting (ASEM), and the ASEAN-EU cooperation framework.
Regarding the East Sea issue, the two sides concurred to address disputes by peaceful means in line with international law, especially the 1982 United Nations Convention on the Law of the Sea (UNCLOS).
Presidents Tran Dai Quang and Michael D. Higgins witnessed the signing of cooperation agreements between the two countries' ministries, businesses, and universities in the fields of education-training, wind power, information technology, post and telecommunications, and medical equipment.
During his visit to Vietnam, the Irish President attended an art programme celebrating the 20th anniversary of Vietnam-Ireland friendship, talked with students and lecturers from the Vietnam National University in Hanoi, and participated in an exchange between businesses from Ho Chi Minh City and Ireland.
He also laid a wreath at the Monument to Heroes and Fallen Soldiers in Hanoi and toured the central province of Quang Tri.
VNA