The Vietnamese transport minister and the Cuban construction minister had talks in Hanoi on June 13 to review transport cooperation and map out collaboration directions for the time ahead.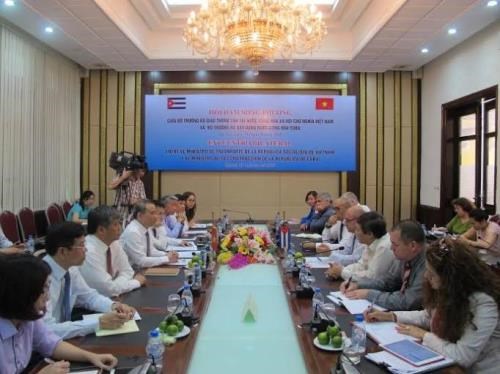 Vietnamese minister Truong Quang Nghia said despite economic difficulties, his country considers the development of infrastructure, including transport facilities, among the breakthroughs needed to be made. Hence, it wants to encourage investment from all sources, including private and foreign investors, through build-operate-transfer (BOT) and public-private partnership (PPP).
Vietnam is overhauling mechanisms to call for the participation of those investors while joining in multilateral free trade agreements to attract more foreign investment.
He said the advisors and supervisors of the Cuban ministry's Dinvai company have performed well with projects in Vietnam. However, they should update their professional knowledge and understanding of local laws to improve their performance.
For his part, Cuban Minister of Construction Rene Mesa Villafana said the resolution of the Communist Party of Cuba's seventh national congress in April stresses that Cuba must summon resources to develop infrastructure. In terms of transport, it has to build expressways and upgrade inter-provincial roads.
Therefore, Cuba is learning from the experiences of other countries, including Vietnam, he added.
He said the Caribbean nation wishes to promote cooperation with Vietnam in transport infrastructure construction, especially when more and more Cuban companies and specialists are taking part in transport projects in the Southeast Asian country.
At the talks, the two sides agreed to push ahead with transport agreements, including in navigation and aviation.
Vietnam, Cuba to join hands in construction material production
Minister of Construction Pham Hong Ha urged Cuban leaders, including the construction minister, to facilitate the early establishment of a joint venture between the Vietnam Glass and Ceramics for Construction Corporation (Viglacera) and the Cuban Geicons Group.
During a June 13 reception for a delegation from the Cuban Ministry of Construction to Vietnam, Minister Ha called on his Cuban counterpart Rene Antonio Mesa Villafana to support and facilitate the export of Viglacera's construction materials to the country.
The Minister expressed his hope that the Cuban side will facilitate the cooperation between the two nations, particularly the operation and development of Vietnamese construction firms in Cuba.
The Vietnamese ministry is willing to share its experience with its Cuban counterpart in managing and developing housing, urban areas, technology and material production, Minister Ha affirmed.
For his part, the Cuban Minister said with the joint venture, once established, it will help Cuba reduce its import of construction materials.
The Cuban side expressed hope that the two nations will strengthen human resources training, particularly in the construction field; and that the two ministries will boost cooperation between the two nations' enterprises.
Vietnam is the second biggest trade partner of Cuba in Asia, with bilateral trade value exceeding 207 billion USD in 2014, according to the General Department of Vietnam Customs.
Vietnam's major products that are shipped to Cuba include rice, coal, chemicals, textiles and computers; while Cuba exports pharmaceuticals to Vietnam, worth nearly 1.3 million USD.
According to the Ministry of Planning and Investment, as of December 2015, there was one Cuban project operating in Vietnam with a registered capital of 6.6 million USD. Vietnam also had one oil project operating in Cuba.
VNA