VietNamNet Bridge - Nguyen Nguyet Nga is a veteran diplomat with more than 30 years of experience in the field, who has been through harsh and challenging diplomatic arenas.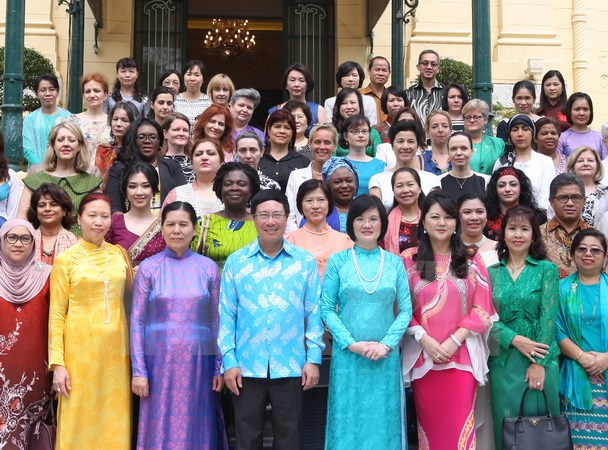 Ambassador Nguyen Nguyet Nga stands next to Deputy PM Pham Binh Minh on the day when AWCH presents itself before the public
It was a day in mid-August. The Government Guest House's campus was brilliant with the colorful national costumes worn by the wives of the heads of diplomatic agencies from ASEAN countries and female diplomats working in Hanoi. They gathered on a special occasion: the ASEAN Women's Circle of Hanoi (AWCH) presented itself before the public.
A woman in Vietnamese traditional blue long dress with bright smile on her lips was seen coming in and out to greet the guests. She was Ambassador Nguyen Nguyet Nga, the honorary chair of AWCH.
In the diplomats' circle, there are many Vietnamese female diplomats who have international respect such as Nguyen Thi Binh, Ho The Lan, Ton Nu Thi Ninh, Nguyen Thi Hoi and Phan Thuy Thanh. Meanwhile, Nguyen Nguyet Nga belongs to the generation of renowned diplomats beloved and admired such as Nguyen Phuong Nga and Ho Dac Minh Nguyet.
Nguyen Nguyet Nga is the first female economics director in the Ministry of Foreign Affairs, nominated by the President as Ambassador. She is a high ranking official at the Asia-Europe Meeting (ASEM), deputy head of the Vietnamese government negotiation delegation for economic and trade issues. She was also the Vietnamese Embassy Envoy in the US.
Nga is always very busy as she undertakes many different works. She now is busy with preparing for the APEC high ranking conferences and the activities to be held in Vietnam in 2017.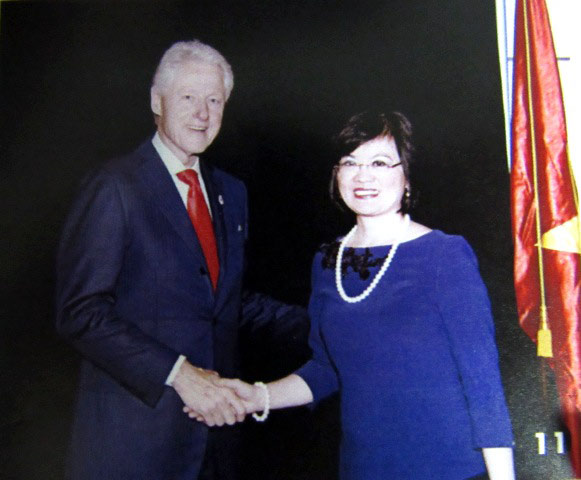 Ambassador Nguyen Nguyet Nga meets the former US President Bill Clinton in July 2015
Young co-workers in the Ministry of Foreign Affairs look at Nga admiringly because the diplomat has exceptional energy. She can spend sleepless nights to deal with many issues and then start the next new working day with a bright smile.

"Since the workload is heavy, diplomatic officers have to practice to become creative and bear hard pressure," Nga said.

Being a female diplomat, Nga thinks women have certain advantages in this career.  The ambassador believes diplomat creates and maintains relations between people, and from heart to heart.

Nga joined the diplomacy 30 years ago, when the country faced a lot of difficulties because of the economic recession and the trade embargo. However, she still feels lucky as she could meet great teachers who had major influences on her in both thinking and morality.

One of the great teachers she always remembered was the late Minister of Foreign Affairs Nguyen Co Thach, whose son she married.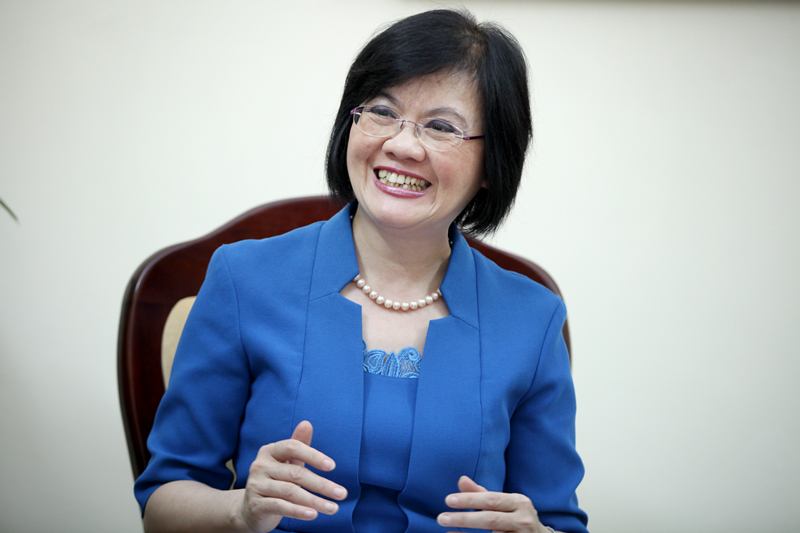 The ambassador remembers Thach as a minister with strong character and she always recalls his words: "In diplomacy and in life, the most important thing is not to tell a lie".

The way of thinking might explain why anyone who meets the veteran diplomat would feel sincerity from her.

Sincere people are always observant people. Nga said that in 1999, when she escorted the then Vice President Nguyen Thi Binh at Binh's official visit to Thailand, she learned a lot about how Binh met Thai high ranking officials and overseas Vietnamese in border provinces.

"It is the words, voice, the glint, the gift or the handshake which can show your sincerity and respect to your friends, not the official speech," she commented.

Being the daughter in law in the high-ranking official's family for 23 years, Nga admitted that she bears pressure from this, because she needs to have proper behavior. 

The woman revealed that the 'know-how' to become happy is to live and follow a moral philosophy. 

"I understand that I am a Vietnamese woman, for whom family is the most important thing," she said.

"When I am at the office, I work with high speed and high concentration. But when I am at home, I do not talk about work. Discussions are okay, but quarrels must not be accepted," she said.

The ambassador said she takes pride in learning much from the husband's respectable family.

What Nga and her colleagues have done in the last 15 years at the Department of Multilateral Economic Cooperation pioneered the global integration in terms of policies, bringing ASEAN (The Association of Southeast Asian Nations), ASEM (Asia-Europe Meeting), APEC (Asia-Pacific Economic Cooperation), WTO (World Trade Organization) , TPP (Trans Pacific Partnership) and a series of free trade agreements to Vietnam.

In 2007, when Vietnam officially joined WTO, Vietnamese leaders then commented that WTO would bring Vietnam from a small river to the open sea.

One of the great achievements gained by the Vietnam's multilateral diplomatic service was putting East Sea and Mekong issues on ASEM's agenda, while lobbying for more than 50 member countries to support the Vietnamese viewpoint.

The successful establishment of 14 strategic partners, 11 comprehensive partners and Vietnam's joining the ASEAN Economic Community can be seen as Vietnam's great achievements in the last five years to which diplomats have made contributions. 

"The questions like 'what benefits will we get when joining TPP?' have arisen in people's daily conservations," Nga noted.

However, Nga also mentioned the challenges Vietnam will have to face in global integration.

"The world connects very quickly. Alliances can be set up monthly, quarterly or annually. Vietnam has signed a lot of FTAs and joined AEC. But do Vietnamese think they are the members of ASEAN?" she asked.

Nga has reasons to raise the question. In the last 15 years, only three Vietnamese businesses joined the APEC's mechanism, which is just like a business consultancy council, while other countries sent thousands of representatives.

Meanwhile, in trade disputes, Vietnamese businesses hesitate to raise lawsuits against foreign partners because they don't want to spend money.

However, the veteran diplomat does not feel discouraged because of the stories. She became excited when talking about 'renovation' to adapt to the new circumstances.

She said diplomats need to obtain comprehensive knowledge, so that they not only have national, but also regional and global vision.

"You have to have ideas and you may become the leaders if the ideas can be laid out as the policies. This should be encouraged, while diplomats need to be the pioneers," she said.

Hoang Thuy