Deputy Prime Minister Nguyen Xuan Phuc and his Lao counterpart Somsavat Lengsavad sought measures to materialize cooperation contents agreed for 2016-2020 during their talks in Hanoi on December 6.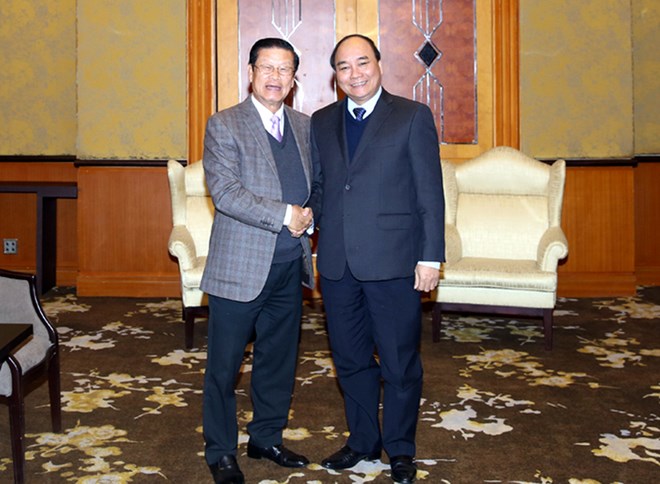 Deputy Prime Minister Nguyen Xuan Phuc (R) and his Lao counterpart Somsavat Lengsavad.
They reviewed what had achieved in 2011 – 2015, agreeing that the two countries' traditional friendship, special solidarity and comprehensive cooperation have constantly been promoted in a practical manner.
Political ties have been increasingly bolstered and consensus has been shared at regional and international cooperation forums, they said, pointing to the efficiency of annual meetings between the two countries' Political Bureaus and the Intergovernmental Committee.
The two countries have worked closely in defence and security and in building their shared border of peace and comprehensive development, contributing to safeguarding their political stability and social order, they agreed.
Vietnam has so far licensed 258 projects investing in Laos with a combined capital of around 5.36 billion USD. The figure included 14 projects that were newly licensed and had their capital added by a total sum of 1.16 billion USD over the past 11 months.
Trade has grown as the two countries signed a new bilateral trade pact, a border trade agreement and are working on a master border trade development plan. Both signed a memorandum of understanding on a cooperation strategy in transport for 2016-2025 with a vision towards 2030.
Cooperation in education and human resources development continued to be prioritised, the officials stressed.
Over the past five years, Vietnam has given 3.1 trillion VND in aid to Laos to support the latter's training. Apart from the official aid, Vietnamese ministries, sectors, localities and businesspeople have together provided Laos with 6.3 trillion VND.
For 2016-2020, the two countries need to reinforce the political relations and the exchange of visits in various forms in order to promptly learn and address problems arising during the implementation of cooperation agreements, the officials said.
Connections at regional and international forums will be stepped up, as will the settlement of issues relating to the respective countries' expatriates, they stressed.
Vietnam will support Laos during its ASEAN Chairmanship in 2016 as well as work together with the neighbor closely at multilateral frameworks, especially in the formation of the ASEAN Community on December 31, 2015.
The two countries will strengthen security and defence affiliation to ensure their political stability, internal security and social order; speed up key projects to be implemented in shared border; and work hard to deal with cross-border trafficking of drugs.
They continues screening Vietnam-invested projects in Laos along with deploying reached agreements on border trade and the memorandum of understanding on transport, and boosting cooperation in agriculture and rural development, education, human resources development, personnel training, and information sharing.
The talks were part of efforts to prepare a report of the Vietnam-Laos Intergovernmental Committee to be submitted to the annual meeting of the two countries' Political Bureaus and the 38 th session of the Vietnam-Lao Intergovernmental Committee.
Vietnam helps Laos develop border guard forces
Construction started on a Vietnam-funded border-guard training institution in Bolykhamsay province in Laos on December 5.
The groundbreaking ceremony saw the participation of Lao Deputy Minister of National Defence Souvone Luongbounmy, who is also Director General of the General Staff Department of the Lao People's Army (LPA). Vietnamese Ambassador to Laos Nguyen Manh Hung, and representatives from the locality and relevant ministries also attended.
The facility, which is worth 125 billion VND (5.58 million USD) and sits on 16 hectares in Thaphabath district will train and provide 150 border guards for the host Border Defence Force.
Deputy Director General of the General Staff Department of the LPA Chanthong Sonetaat attached significance to the project, saying that it not only contributes to the training of the border defence force, but also helps enhance the capabilities of the LPA.
He also highlighted the commencement of the work amid activities to prepare for the 40 th anniversary of Laos' National Day, saying that it proves the special solidarity between the two nations.
For his part, Colonel Nguyen Thanh Giang, a representative from the contractor, Corporate No. 36 under the Vietnam Ministry of National Defence and the Economic Cooperation Company in Region 4, pledged to ensure the project is implemented safely and on schedule.
Corporate No.36 has constructed a number of Laos-based facilities, including Bo Keo Provincial Hospital, the Ministry of Public Security's building in Vientiane, the Laos National Publishing House and Distribution headquarters.-
VNA