A senior military delegation led by Deputy Defence Minister Nguyen Chi Vinh is attending the Vietnam – Cambodia Dialogue on National Defence Policies, from October 18-20 in Cambodia, as part of the 2015 Cooperation Plan between the two Ministries of National Defence.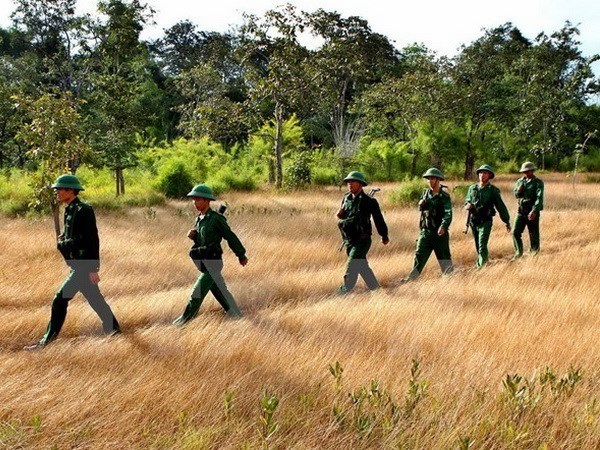 Patrol team is on duty along Vietnam-Cambodia border areas 



At the deputy ministerial-level event, the first of its kind, the two sides are discussing international and regional issues and their impacts on Vietnam – Cambodia relations.

They reviewed the bilateral cooperation between the two countries over the past years, and sought measures to foster it moving forward with a focus on information sharing, training cooperation, delegation exchanges at all levels, border security management and protection, among others.

During the stay, the delegation is scheduled to pay courtesy visits to the Cambodian Prime Minister and Defence Minister and have a talk at National Defence University.
Vietnam, Cambodia agree on direction for co-operation
Senior officials from Cambodia and Vietnam met in Ho Chi Minh City on October 18 to work out the agenda for the 14 th plenary meeting of the Vietnam-Cambodia Joint Committee on Co-operation in Economics, Culture and Science-Technology. 
The Vietnam-Cambodia Senior Officials Meeting (SOM) was chaired by Deputy Minister of Planning and Investment Nguyen Chi Dung and Secretary of State of the Cambodian Ministry of Foreign Affairs and International Co-operation Ung Sean. 
The two sides reviewed the implementation of agreements reached in the 13th plenary meeting of the Joint Committee in February last year and discussed a draft agreement for the 14th meeting, scheduled for October 19 in Ho Chi Minh City. 
Besides measures to boost economics, trade, investment and tourism partnership, the two sides looked at how to accelerate border demarcation and border marker planting, strengthen border management and ensure the legitimate rights and interests of foreign nationals in the host country.
VNA