Deputy Chief of the General Staff of the Vietnam People's Army Vo Van Tuan hosted a reception for visiting US Coast Guard Commandant Paul Zukunft in Hanoi on September 21, reported the Quan doi Nhan dan (People's Army) daily.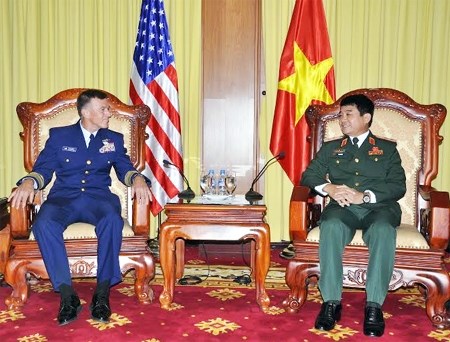 Lt. Gen. Vo Van Tuan (R) meets with Admiral Paul Zukunft.
The Vietnamese Lieutenant General welcomed the US delegation's working visit and spoke highly of the outcomes of its working sessions with the High Command of the Vietnam Coast Guard and other agencies.
He emphasised the progressive cooperation between Vietnam and the US, including in defence, contributing to regional and global peace and stability.
At the meeting, Admiral Paul Zukunft also rejoiced at the countries' unceasingly solidified defence relations.
He voiced his hope for further practical affiliation activities between the US and Vietnamese Coast Guard forces, such as information and delegation exchanges, foreign language training and maritime security-related experience sharing.
VNA