Prime Minister Nguyen Tan Dung met with Airbus Group CEO Thomas Enders in Hanoi on July 1, expressing his confidence in the massive cooperation prospects between Airbus and Vietnamese airlines.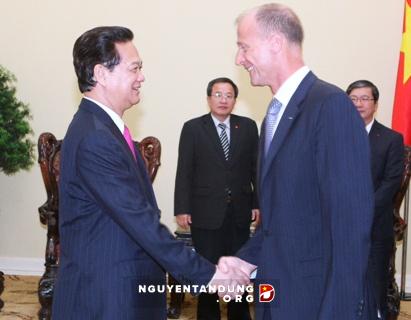 The Cabinet leader spoke highly of collaboration between the aircraft manufacturer and Vietnam in recent years and asked them to uphold their contracts, including those on 10 wide-body planes A350-900 XWB, to develop the fleet of Vietnamese airlines.
He suggested both sides design long-term cooperation strategies where Airbus would further assist Vietnam in training personnel and developing technical infrastructure, including maintenance facilities and aircraft component factories.
Vietnam is willing to discuss and promote its affiliation with Airbus in airspace and military technique, including transport planes and defence equipment, he added.
Enders said Airbus attaches importance to the Vietnamese market as well as long-term cooperation with the country, noting that it pledges support to local airlines in modernising their fleets along with offering technical and personnel assistance to help them successfully operate Airbus planes.
An A350-900 XWB was recently handed over to Vietnam Airlines, which the executive said marked Vietnam as the first in Asia and the second in the world to purchase the model. Airbus will provide maximum support to Vietnam Airlines to put the aircraft into operation and ensure a timely delivery of the other ordered vessels.
Enders added his firm is keen to work with the country in military aircraft and airspace. It will offer help to build and run aircraft maintenance facilities and consider setting up component manufacturing establishments in the future.
VNA