Prime Minister Nguyen Tan Dung hosted a reception for outgoing Danish Ambassador to Vietnam John Nielsen, during which he stated that Vietnam wishes to work with Denmark to expand bilateral ties for the interest of both peoples.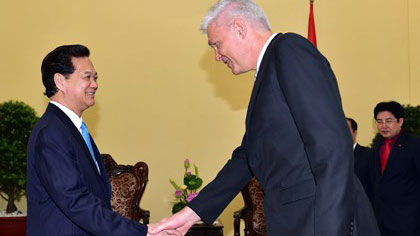 He said he hopes the two countries will better tap cooperation potential, while enhancing politic and diplomatic relations as well as increasing exchange of delegations.
Vietnam and Denmark should also work together for stronger trade, economic and investment partnership, raising two-way trade to a more impressive figure, while strengthening collaboration in coping with climate change, he said.
The Vietnamese Government always creates favourable conditions for businesses of both sides to exchange information and seek cooperation opportunities, he pledged.
The PM also noted that Vietnam has signed and negotiated for free trade agreements with a number of partners, including the European Union, which is a good condition for the expansion of investment cooperation between Vietnam and Demark as well as other partners.
He thanked Denmark for providing a high amount of official development assistance (ODA) for Vietnam at about US$1 billion , affirming that the assistance are being well managed and effectively used for development goals.
Vietnam hopes to receive more Danish ODA in climate change adaptation, he said.
He also expressed his hope for tighter education-training, cultural, sports and tourism collaboration, as well as more support for the Vietnamese community in Denmark .
Hailing the ambassador's efforts and contributions during his stay in Vietnam , the PM said he hopes Nielsen will continue working for the growth of the Vietnam-Denmark ties.
On his part, Ambassador Nielsen said his country always attaches much importance to fostering relationship with Vietnam . Denmark is keen on bolstering cooperation with Vietnam in all fields, especially economy, trade and investment, he said.
The diplomat stated that his country will also continue ODA provision to Vietnam , while helping the country enhance capacity in dealing with climate change.
Meanwhile, Denmark will also pay more attention to boosting cultural exchange and people-to-people contact with Vietnam , thus increasing mutual trust and understanding between the two nations.
Ambassador Nielsen vowed that in any position, he always acts as a bridge for the friendship between the two peoples, making positive contributions to the growth of the Denmark-Vietnam ties.
VNA