VietNamNet Bridge - China cannot compare its illegal acts to expand reefs and build artificial islands in the East Sea with Vietnam's legal activities in Truong Sa (Spratlys) Islands.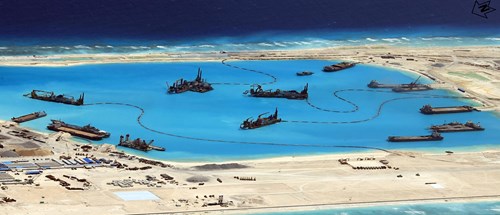 Illegal construction activities of China in the Spratlys Islands of Vietnam. Photo Reuters
In the past two weeks, to justify its illegal construction activities in Spratly Islands, China argued that Vietnam and other countries in the region had done that so they also had the right to do it similarly.
On May 4, the Chinese Foreign Ministry issued a statement saying that the Philippines violated the Declaration on the Conduct of Parties in the East Sea (DOC) through the construction of large-scale military and civilian facilities, including airports, ports and barracks.
The aforementioned arguments of Beijing were vehemently denied by observers. Experts said that China's land reclamation and construction of artificial islands on the large scale is violating the DOC. More importantly, China has no basis to compare its acts to change the current status with the construction activities of the neighboring countries.
Turn nothing into something
Gregory Poling, from the Centre for Strategic and International Studies (CSIS, USA) pointed out: "In Spratly Islands, China is the only country to build the islands from the entities that were formerly submerged and in the process of construction it caused enormous ecological damage. Other countries in the region have also renovated islands in a limited way, but in nature their activities are entirely different from what Beijing is doing: turning nothing into something."
Emphasizing the aspect "turn nothing into something," Dr. Zachary Abuza (expert on security in Southeast Asia, America) added: "China is also scheming to use these islands to justify its economic exclusive zone. And more importantly, the development of these islands is purely for military purposes and as a basis for claiming the Air Defence Identification Zone (ADIZ). This is the key difference."
China cannot compare its acts with Vietnam's. Dr. Tran Cong Truc, former Head of the Border Frontier Committee, said: "Vietnam is the owner of the Spratlys Islands. Vietnamese people have been living, building, governing, and protecting the islands for hundreds of years, at least since the 17th century and Vietnam's construction and upgraded works serve people, economics, security and defense ... on its land is totally normal, not activities that change the status quo, making the situation in the East Sea more tense."
He added: "And how about China? They have just occupied some entities in the northwest of the islands since 1988; their acts to turn these reefs into islands for the purpose of military attack, in order to dominate the East Sea have not only violated the sovereignty of Vietnam but also broken the commitments recorded in article 4 and article 5 of the DOC. Therefore their illegal acts cannot be equated with the legitimate activities of Vietnam".
TN