Rose Gottemoeller, Under Secretary of State for Arms Control and International Security for the US State Department, had a working session with key officials of central Quang Tri province on cooperation activities to overcome consequences of bombs and mines left by the war in the locality on March 2.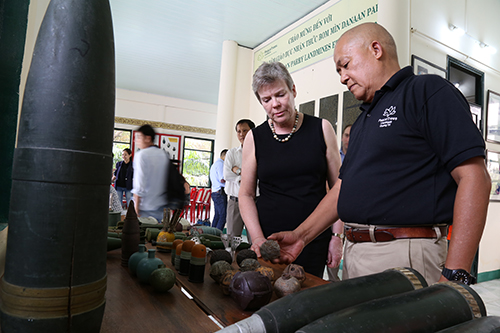 During the meeting with Gottemoeller, the Quang Tri authorities spoke highly of the US Government's and non-government organisations' contributions to surveying and clearing the unexploded ordnance (UXO) of war in the province.
They also expressed their hope for continued assistance in projects on bomb and mine clearance, education on landmine, help for UXO victims, and development in the future.
On her part, Gottemoeller spoke highly of the ongoing model on overcoming bomb and mine consequences in Quang Tri, saying that it can be applied in UXO-contaminated areas across the world.
In 2015, the US Government will provide 8 million USD for Quang Tri to establish an UXO tracking database centre in order to help detect and early deal with areas heavily contaminated by UXOs, she said.
During her trip to the province, Gottemoeller visited the Quang Tri bomb and mine action centre, the scene of the bomb and mine clearance projects by the Mines Advisory Group (MAG) and the Norwegian People's Aid (NPA) in Trang Soi hamlet, Trieu Ai commune, Trieu Phong district.
She also visited the Quang Tri Mine Action Database Unit, PeaceTrees Vietnam's Danaan Perry Landmine Education Centre.
Quang Tri is the first province in Vietnam getting the Vietnamese Government's approval to pilot an international cooperation programme on clearing UXOs with the PeaceTrees Vietnam Organisation in 1996.
Over the past 20 years, surveying and clearing UXOs in the province has achieved considerable achievements, helping reduce the number of bomb-and-mine-related accidents to 127 during the period of 2008-2014 from 456 cases in the 2001-2007 period.
By the end 2014, 8,399 hectares of UXO-contaminated land in Quang Tri has been freed from 556,448 explosive materials.
VNA