Prime Minister Nguyen Tan Dung and his Indian counterpart Narendra Modi reaffirmed yesterday the commitment of both nations to comprehensively develop the ties of strategic partnership.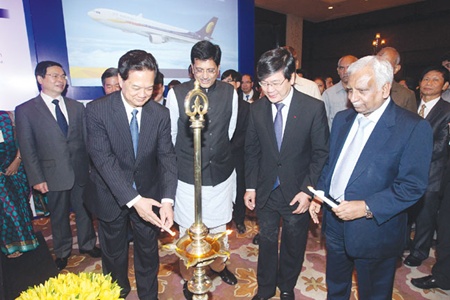 Prime Minister Nguyen Tan Dung (second left) lights a traditional Indian lamp at the launching ceremony for a direct flight route between Viet Nam and India held in New Delhi on Monday.
In talks held in New Delhi, the two PMs also reached consensus on major measures and orientations for bilateral collaboration in politics, economy, defence, security, science technology, culture and education.
They agreed to increase the exchange of delegations at all levels, step up co-operation via State and Parliamentary channels and people-to-people exchange, and regularly organise meetings of existing co-operative mechanisms such as the inter-governmental committee, strategic dialogue, political consultation and defence dialogue.
Both leaders spoke highly of the rapid development of bilateral economic ties and agreed that further efficiency in economic co-operation was needed to raise two-way trade to US$15 billion by 2020.
Dung vowed to create favourable conditions for businesses of both countries to strengthen economic, trade and investment ties in areas that both sides have advantages in, including oil and gas, energy, infrastructure construction, information technology, agricultural product processing and pharmaceuticals.
For his part, Modi said that he would encourage Indian companies to invest in Viet Nam and help the country diversify material sources for industries, particularly the garment and textiles sector.
He suggested Vietnamese businesses take advantage of India's economic development programmes like "Make in India," in order to boost mutually beneficial collaboration.
Both sides agreed to continue promoting co-operation in defence and security, science and technology and culture and education.
The noted that initial aviation links would be established with the launch of a direct air route next month.
Both sides pledged to continue effective and close coordination at such regional and international forums as ASEAN-India cooperation, East Asia Summit, ASEAN Regional Forum and Regional Comprehensive Economic Partnership, and within the framework of the United Nations.
Viet Nam reiterated its support for India to become a member of the UN Security Council when this mechanism expands.
The two leaders agreed on the importance of ensuring peace, stability, and maritime and aviation security and safety in the East Sea.
India asserted that the legitimate rights and interests of nations in the East Sea must be guaranteed and all disputes must be solved by peaceful means on the basis of international law, especially the UN Convention on the Law of the Sea (UNCLOS), and the full and serious implementation of the Declaration on the Conduct of Parties in the East Sea (DOC) towards the early conclusion of a Code of Conduct (COC) in the East Sea.
The Vietnamese side appreciated India's stance on the East Sea issue and the country's commitment to further co-operating with Viet Nam in oil and gas exploration and exploitation in its exclusive economic zone and continental shelf in the sea.
After the talks, the two PMs witnessed the signing of several co-operation agreements on culture, education, relic conservation, oil and gas, and broadcasting.
They also attended a meeting with the media during which the Indian PM said that his country would help Viet Nam modernise its defence and security forces by providing it with a credit package worth $100 million to buy patrol ships from India.
Meeting other leaders
Viet Nam constantly treasures its traditional friendship and strategic partnership with India, Prime Minister Dung told Indian leaders during his three-day visit that ended yesterday.
In New Delhi, the Vietnamese Government leader met with Indian President Pranab Mukherjee, Vice President and Chairman of the Rajya Sabha (Upper House) Hamid Ansari, Speaker of the Lok Sabha (Lower House) Sumitra Mahajan, and Minister of External Affairs Sushma Swaraj.
During these meetings, he expressed his delight at the positive development of bilateral ties, especially in politics, security-defence, economy, science-technology, culture and education.
He affirmed that Viet Nam backs India's "Look East" policy and wishes that India continues making important contributions to maintaining peace, stability and development in the region and the world at large.
The PM expressed his hope that the Indian leaders would help the two countries further strengthen their strategic partnership.
The Indian leaders spoke highly of Viet Nam's positive contributions to the development of the Association of Southeast Asian Nations (ASEAN), and said they looked forward to India strengthening collaboration with Viet Nam in all fields.
Earlier, PM Dung held meetings with leaders of India 's political parties, including the Indian National Congress (INC), the Communist Party of India (CPI) and the Communist Party of India (Marxist) (CPI-M). He appreciated the parties' positive contributions to promoting and developing the Viet Nam-India ties in an intensive, practical and effective manner.
He also said that the Communist Party of Viet Nam has always valued its ties with all political parties in India, including the INC, CPI and CPI-M.
During his stay in India, he also attended and delivered a speech at the Viet Nam-India Trade and Investment Forum and received leaders of some major economic groups in India like TATA, ESSAR and ILFS.
The two countries also issued a joint statement yesterday.
PM Dung left India on October 28.
VNS/VNN