Chief Minister of the eastern Indian state of Bihar Jitan Ram Manjihi pushed for stronger co-operation with Viet Nam in farming, fisheries, food processing, education and tourism at a meeting with visiting Vietnamese Prime Minister Nguyen Tan Dung yesterday.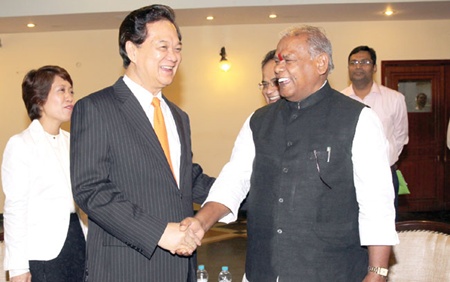 Prime Minister Nguyen Tan Dung (left) meets Chief Minister of the eastern Indian state of Bihar Jitan Ram Manjihi yesterday in India.
Manjihi proposed the establishment of a direct air route between Viet Nam and Bihar, a business forum on tourism in Bodh Gaya City in early 2015, and a business trip to Viet Nam to seek investment opportunities.
The PM agreed with his host's proposals, adding that his visit aimed to improve the strategic partnership with India across the board.
He said he was pleased to visit Bodh Gaya, a well-known religious site and place of pilgrimage in Bihar.
He suggested that India grant visas on arrival to Vietnamese citizens at Bodh Gaya International Airport, making it easier for Vietnamese Buddhists and tourists to visit the site.
Viet Nam is home to 12 million Buddhist followers, and Bodh Gaya welcomes hundreds of thousands of Buddhists and tourists from all over the world, including Viet Nam.
Later that day, the PM arrived in New Delhi for the second leg of his official visit at the invitation of his Indian counterpart Narenda Modi.
Upon his arrival, he met with the executives of leading Indian businesses, including Tata Group, Jet Airways, Essar and IL&FS.
Speaking at the meetings, PM Dung noted the contributions these businesses had made to the development of Viet Nam – India trade and investment, saying that Viet Nam would create favourable conditions for Indian firms to do business in Viet Nam in all fields, including energy, garments, chemicals, construction, pharmaceuticals, agricultural production, aviation and tourism. 
VNS/VNN