Vietnam and Cuba will continue to actively realize high-level agreements and signed cooperation documents aiming to promote effective cooperation mechanisms.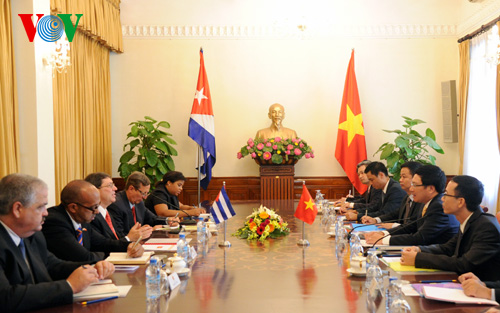 Deputy Prime Minister cum Foreign Minister Pham Binh Minh and his Cuban counterpart Bruno Rodriguez Parrilla agreed upon this view at their talks in Hanoi on September 10.
During the talks, they informed each other about the recent situation in their respective country and discussed measures to promote solidarity and comprehensive cooperation between the two countries and the two foreign ministries as well as comparing notes on regional and international issues of mutual concern.
FM Parrilla expressed his admiration for Vietnam's tremendous renewal achievements in all aspects and hailed the Vietnam-Cuba cooperation in international organizations and multilateral forums such as the UN, Non-Aligned Movement and the East Asia- Latin America Cooperation Forum.
"Cuba places importance on Vietnam's solidarity and consistent support given to it in recent years." he noted.
FM Binh Minh affirmed Vietnam's recognition of high importance to the traditional and fraternal ties and across the board cooperation between the Parties, States and peoples of Vietnam and Cuba so as to deepen cooperation between the two nations bilaterally and multilaterally.
The two diplomats agreed that the Vietnam-Cuba fraternal relations, solidarity and cooperation continued to be consolidated, making remarkable progress through the results achieved during the official visit to Cuba by Prime Minister Nguyen Tan Dung in March 2014.
They suggested the Intergovernmental Committee for economic,scientific and technological cooperation improve the efficiency of bilateral cooperation, especially in potential areas like trade, agriculture, oil and gas, biotechnology, medicine - pharmaceuticals, construction, telecommunications, electronic equipment manufacturing and consumer goods production.
The two sides also consented to launch celebratory activities honouring the 55th anniversary of diplomatic relations (1960-2015), thereby tightening solidarity and traditional friendship between the two peoples.
Under the framework of the visit, the Cuban Foreign Minister is scheduled to pay courtesy visits to General Secretary Nguyen Phu Trong, Prime Minister Nguyen Tan Dung, National Assembly Vice Chairwoman Nguyen Thi Kim Ngan and meet with the Chairman of the Party Central Committee's Commission for Foreign Relations Hoang Binh Quan.
Senior leaders receive Cuban diplomat
Party General Secretary Nguyen Phu Trong and Prime Minister Nguyen Tan Dung on September 10 received Cuban Foreign Minister Bruno Parrilla on a working visit to Vietnam.
Talking to the Cuban guest, the Vietnamese Party Chief praised the achievements of the Cuban Party, State and people in implementing resolutions of the 6th Congress of the Communist Party of Cuba (CPC)
He expressed his hope that under the leadership of the CPC, the Cuban people will succeed in economic restructuring model to continue on the path of socialist building. He thanked Cuba's support for Vietnam in the past and confirmed Vietnam's continued support for Cuba's heroic struggle. He said that the two countries should devise practical measures to educate the young generations about their special friendship and relations.
He expressed his conviction that the people of Cuba will succeed in transforming the country's economic structure to continuously move towards socialism under the leadership of the CPC.
At a reception for FM Bruno Parrilla, PM Dung expressed his pleasure at the fine development of the Vietnam-Cuba traditional friendship relations, saying that Vietnam will do its best to join efforts with Cuba to seek effective solutions for enhancing mutually beneficial cooperation in a practical and effective manner.
Dung suggested the two sides intensify coordination aiming to realize a signed mid-term cooperation program which focuses on promoting economic, trade and investment cooperation.
In addition, the two sides need to continue increasing co-operation in other areas- culture, education-training, science-technology, defense-security and cooperation at multilateral forums and in international organizations, Dung said.
The Government leader expressed his delight at Cuba's healthy development as well as its raising international status and role and wished that the Cuban people will continue to record even greater achievements. He extended his regards to former President Fidel Castro, President Raul Castro and other Cuban leaders.
Minister Bruno Parrilla, for his part, thanked Vietnam for its valuable assistance and support for Cuba's construction and development, noting that his visit is testimony to the two nations' determination to carry out the agreements reached between leaders during the recent Cuba visit by Prime Minister Nguyen Tan Dung.
VOV/VNN