VietNamNet Bridge – Spokesman for the Foreign Ministry, Le Hai Binh, said the China visit by Politburo member Le Hong Anh as Special Envoy of Party General Secretary Nguyen Phu Trong, was fruitful in several ways.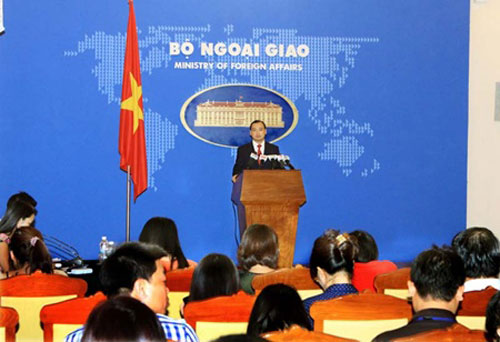 Spokesman for the Foreign Ministry, Le Hai Binh. 
Binh said yesterday (Aug 28) at the regular pres briefing that Anh and Wang Jiarui, the Vice-chairman of the National Committee of the Chinese People's Political Consultative Conference, agreed to continue directing their efforts towards creating a healthy and stable relationship.
In addition, they pledged to abide by the key common views of the leaders of the Parties and countries, comply with the basic principles guiding the settlement of maritime disputes, make good use of mechanisms at the government-level for conducting negotiations on Vietnamese-Chinese territorial borders.
There was also agreement that Viet Nam and China would work in ways to manage maritime disputes effectively and avoid actions with potential to complicate and enlarge disputes.
In response to Vietnam News Agency questions on Viet Nam's position on the Palestine – Israel ceasefire agreement on August 26, Binh said that Viet Nam welcomed the move and calls on all parties to increase negotiations on achieving a sustainable peace deal.
Regarding Viet Nam's stance on the escalating violence triggered by the Islamic state group in Iraq, Binh said Viet Nam was deeply concerned by the situation and condemned inhuman actions and atrocities committed against innocent civilians.
Asked about the ongoing census of Vietnamese nationals in Cambodia, Binh said a working mission from the Cambodian government had checked registration and citizenship papers to safeguard the interests of the Vietnamese community.
On the situation of the Vietnamese community in Ebola-infected countries, he said that Vietnamese citizens living in Nigeria, Sierra Leone and Liberia were safe, but they had been warned to stay away from affected areas.
Regarding the appeal made to Vietnamese Ukrainians to join the army, Binh made it clear that most Ukrainians of Vietnamese descent were not affected since they were pursuing their education, both inside and outside of the country.
Source: VNS