Representatives of ASEAN countries met yesterday to review maritime co-operation and security among regional members at the opening of the 5th ASEAN Maritime Forum (AMF-5).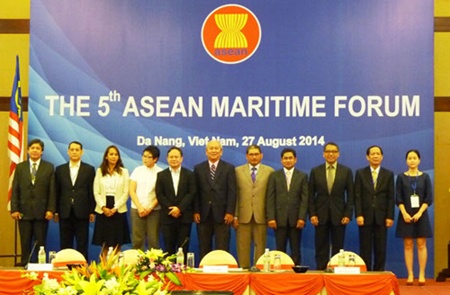 Discussions on maritime co-operation in humanitarian assistance and disaster relief as well as the management and protection of maritime ecosystem and biodiversity and aquatic resources were major focuses in the forum as alarming tensions on the sea happened recently.
"Maritime co-operation has increasingly become a priority area among ASEAN member states and between ASEAN and its partners, given the increasingly complicated and unpredictable situation and incidents in regional seas," director general, deputy head of SOM ASEAN Viet Nam, Nguyen Vu Tu said at the forum.
"The ASEAN Maritime Forum has, since its inception, been consolidating its role as an important forum for enhanced dialogue and confidence building on maritime co-operation and security," Tu said.
He said the forum aimed to foster maritime co-operation through constructive dialogue and consultations, and to further enhance the role and contributions of the forum for peace, stability, maritime security and freedom of navigation in the region.
Tu, who is former Vietnamese Ambassador to the Philippines, said the forum was a good chance for member countries to discuss the challenges and ASEAN's approach towards recent developments in the South China Sea (known as the East Sea).
Nurul Hizam Bin Zakaria, martime commander and senior assistant director of the Command, Control and Communication, and Information Department (C3I) of Malaysia, said the forum was a good opportunity for ASEAN countries to raise opinions and solutions on maritime co-operation for a better future.
"It needs joint efforts from countries in the region to solve recent challenges and tensions at sea. Different issues regarding maritime co-operation and security were raised at the forum," Nurul Hizam Bin Zakaria told Viet Nam News.
"There is a difference of culture and politic regimes among regional countries, so it's very important for us to build a strong community to solve challenges in maritime co-operation and security," he said.
Nurul said the forum also focused on the responsibility of member countries in dealing with natural disasters in the region.
The 3rd Expanded ASEAN Maritime Forum (EAMF-3) opens today with the participation of representatives from 10 ASEAN member states and eight East Asia Summit (EAS) partners: namely China, Japan, the Republic of Korea, India, Australia, New Zealand, Russia and the US.
The AMF-5 and EAMF-3 serve as channels for participants to discuss issues related to maritime collaboration, focusing on building trust and ensuring maritime security and safety in the East Sea on the basis of international law, the 1982 UN Convention on the Law of the Sea (UNCLOS) and the Declaration on the Conduct of Parties in the East Sea (DOC), while working towards a Code of Conduct in the East Sea (COC).
VNA/VNN