The UN Human Rights Council (UN HRC) has approved Vietnam's Universal Periodic Review (UPR) on human rights in the second cycle, acknowledging the country's progress in protecting and promoting fundamental human rights.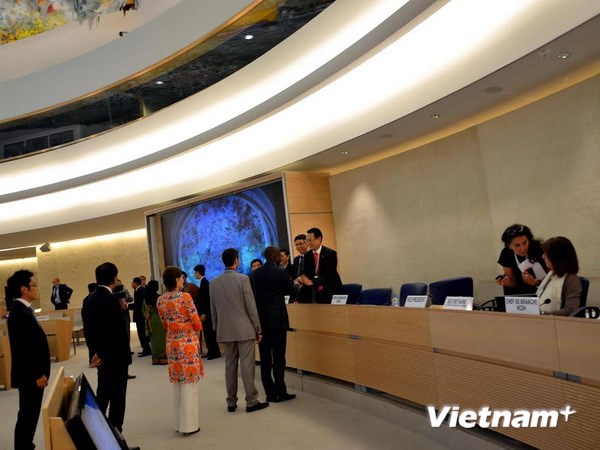 International delegates congratulated the Vietnamese delegation after the UPR was approved in New York on June 20 (Photo:VNA)
Addressing a UNHRC session in New York on June 20, Ambassador Nguyen Trung Thanh, head of the Vietnamese delegation, noted that Vietnam had a frank and constructive dialogue with 106 countries during the 18th session of the working group on UPR on February 5, 2014, and received a total of 227 recommendations.
Recognising the central role of people in its development goals, Vietnam supports the strengthening of dialogue and international cooperation on human rights, considering it a good chance for the country to learn, share experience and practise.
To this end, he said Vietnam has established an inter-ministerial working group to seriously examine all comments and recommendations received from different countries. The Government has approved a comprehensive report on the list of accepted recommendations and assigned 13 relevant ministries and agencies to realise them.
Ambassador Thanh announced that Vietnam has accepted 182 out of 227 recommendations or 80.17% – a high rate of acceptance showing the country's openness and determination to protect and promote human rights.
The accepted recommendations stem from Vietnam's consistent policy and commitments on human rights to the international community, especially the voluntary commitments of the country as a Human Rights Council member.
Vietnam has pledged to strengthen policies, measures and resources to promote and protect people's economic, cultural, social, political and civil interests, meeting international standards.
It strives to achieve all Millennium Development Goals (MDGs) on schedule, complete legal and judicial systems, and national mechanisms for human rights, and ensure the rights of vulnerable groups in society, especially women, children, people with disabilities, ethnic minorities, and the elderly.
The country will improve education, raise the awareness of human rights, and enhance the capacity building for law enforcement agencies, while joining and fully observing international human rights conventions, especially those for vulnerable groups.
Ambassador Thanh said Vietnam is making every effort to realise the 2013 amended Constitution, with one of the highest priorities to concretising many provisions on human rights and civil rights as stipulated in the Constitution.
Despite facing challenges, in the first six months of 2014 Vietnam generated sufficient resources to implement the MDGs and the national programmes on social security, especially for households with financial difficulties, women, children, the elderly, ethnic minorities, people with disabilities and those living in remote, mountainous areas.
It paid due attention to democratic practice at the grassroots level, encouraging socio-political organisations and all social strata to take part in planning and implementing national policies and key programmes, especially those related to national security, peace, stability and development.
In addition, Vietnam poured more investments into cultural and religious affairs to improve the spiritual lives of its people. Notably, Vietnam successfully hosted the United Nations Day of Vesak (Vesak) with the participation of 3,500 Buddhist representatives and dignitaries from 90 countries and territories, and tens of thousands of Buddhists in Vietnam.
A number of regional and international cultural events were also held in Vietnam, such as the Hue Festival 2014, and Vietnam Culture Days of ethnic groups, improving the spiritual and physical life of the people, enhancing mutual understanding, and respecting other cultures in the region and around the world.
VNA/VNN