Vietnam has sufficient historical and legal evidence to prove its sovereignty over the Hoang Sa (Paracel) and Truong Sa (Spratly) islands, which the country occupied peacefully in the 17th century and has since excercised its jurisdiction over them.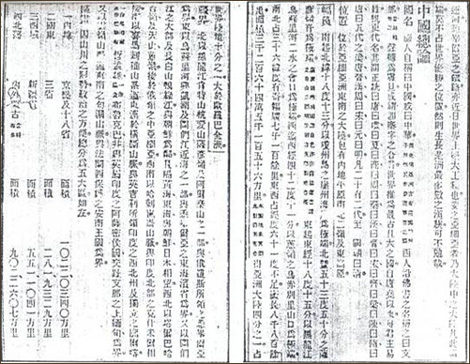 In ancient Chinese bibliographic documents, China's territorial areas extend to Hain Island as the ending point in the south
China's claim to the " nine-dotted line" in the East Sea is totally wrong as far as its historical name and sovereignty is concerned. In ancient Chinese bibliographic documents, China's territorial areas extend to Hainan Island as the ending point in the south.
Many old geographical documents define Hainan Island as China's southernmost point. Among them are the geographical records of Qiongzhou district and Guangdong province in 1731. The fact on the southernmost point of China is also recorded in "Hoang trieu nhat thong Du dia tong do" (Geographical map of the unified reigning dynasty) released in 1894. Notably, at page 241 of the Chinese textbook on geography published in 1906 confirms China's southernmost point is the Ya Zhou coast of Qiongzhou Island, according to the People's Army newspaper.
Fan Huangjun, an independent researcher on ancient history and ancient geography of China said that from the Han to Qing Dynasties, there were collections of history written by the imperial courts including records of geography.
All these documents of the Chinese imperial courts had no notes of Hoang Sa (Paracel) and Truong Sa (Spratly) archipelagoes. This fact is enough for people to realise that China had never considered the two archipelagoes of Hoang Sa and Truong Sa are part of its territory. This fact is further proved with the geographical records with the confirmation of China's administrative unit only reached Ya district, Qiongzhou (Hainan Island).
Former Chief of the Government Border Committee, Dr. Tran CongTruc completely supports the remark of Ms. Monique Chemillier Gendreau, a professor emeritus of public law and political science at the University of Paris VII Denis Diderot and the former President of the French Democratic Lawyers Association and former President of the European Lawyers Association, that long time ago, the Chinese people knew that the East Sea has many islands lying scatteredly but this cannot be a legal foundation to defend the argument that China is the first state to discover, exploit and manage these two archipelagoes.
Truc emphasized that, not only the world, but also genuine Chinese people have commented on China's historical sovereignty. He also quoted Professor Li Linghua from the Chinese Ocean Information Centre, under the pen name Baopu Xianren, as saying that so far we (China) used to rely on historical documents in the past, but these evidences have little value in modern international law.
Actually, the most convincing evidence is the effective occupation. A state might claim a land to be its own. The question here is, whether that state effectively occupies and administrates the land and whether people there accept and obey its management and whether other people have no different point of view? If all the answers are "Yes", then that state will win. "In Nansha (Vietnam's Truong Sa Archipelago), we (China) have no such proof."
In fact, the Chinese authorities will find it difficult to answer the questions raised by the Chinese professor Li Linghua.
What legal principle that Vietnam should base on to prove and assert its full sovereignty over Hoang Sa and Truong Sa archipelagoes? Is that principle in line with international law?
Dr. Truc held that Vietnam is completely right. Vietnam's mode of territorial acquisition over Hoang Sa and Truong Sa archipelagoes is under the effective occupation principle. Vietnam officially announced that the State of Vietnam was the first state in the history to occupy and exercise full sovereignty over Hoang Sa and Truong Sa archipelagoes when they were res nullius (land belonging to no one), at least since the 17th century. The occupation and exercise of the sovereignty was effectively, uninterrupted, peaceful and clear. Vietnam has full legal foundation and historical evidences with legal values to confirm and defend its legal sovereignty, meeting requirements of the effective occupation principle.
Dr. Truc confirmed that Vietnam's feudal state, during three centuries, from the 17th to late 19th centuries, the three different dynasties, carried out their sacred missions in the name of Dai Viet State to occupy and exercise Vietnam's sovereignty over Hoang Sa and Truong Sa archipelagoes.
Firstly, the State of Dai Viet under Nguyen Dynasty: Historical evidence with legal value proving Vietnam's occupation and exercise of sovereignty over Hoang Sa and Truong Sa archipelagoes is the establishment and routine and uninterrupted operation of Hoang Sa Flotilla, an organization set up by the State with an aim of managing, protecting and exploiting Hoang Sa and Truong Sa archipelagoes. The Hoang Sa Flotilla and its affiliated unit, named Bac Hai Flotilla, performed their operations under the order of 7 lords, from Lord Nguyen Phuc Lan or Nguyen Phuc Tan to the Tay Son Uprising.
Secondly, the State of Dai Viet under the Tay Son Dynasty: the 1771 -1801 period witnessed constant wars in both the mainland and in the East Sea. However, forces under the Nguyen and Trinh Lords, Tay Son Dynasty, took command of their controlled lands. Since 1773, Tay Son occupied Quy Nhon port and headed to Quang Nam to seize control of Binh Son, Quang Ngai, including Sa Ky seaport and Re Isle, where the Hoang Sa Flotilla was based.
In 1775, Re Isle ward, in An Vinh commune, Binh Son district, Quang Ngai province submitted a petition asking for Hoang Sa and Que Huong Flotillas to resume their normal operation. In 1778, Nguyen Nhac proclaimed emperor and Tay Son administration was reinforced fully. In 1786, Emperor Nguyen Nhac dispatched the head of Hoang Sa Flotilla and another to command 4 fishing boats to take normal missions in Hoang Sa. Flotillas named Que Huong, Dai Mao and Hai Ba were also assigned to operate in the East Sea.
Thirdly, the state of Vietnam under Nguyen Dynasty: The Hoang Sa and Bac Hai Flotillas were assigned to exploit and safeguard Hoang Sa and Truong Sa archipelagoes. In July 1803, King Gia Long re-established Hoang Sa Flotilla and asked captain Vo Van Phu, Chief of Sa Ky seaport to recruit people from other localities to form the Hoang Sa Flotilla (according to the "Dai Nam Thuc Luc", Vol. 12, the first year of Gia Long reign). In January 1815, King Gia Long decided to send Pham Quang Anh of Hoang Sa Flotilla to set off for Hoang Sa to survey sea route" (according to "Dai Nam Thuc Luc", Vol. 50, page 6a, the first year of Gia Long reign).
Under the reign of King Minh Mang, the survey of sea route was assigned to the navy. In 1833, 1834 and 1836, King Minh Mang instructed the dispatchment of people to Hoang Sa to build the sovereignty stele, survey sea routes and draw maps. Each ship to Hoang Sa must bring 10 wooden planks 2m long and 20cm wide to make marker posts. The naval troops under the command of Pham Huu Nhat were assigned to Hoang Sa with 10 wooden planks along to erect marker posts.
Dr. Truc confirmed that, from the Nguyen Lords to the Nguyen Dynasty, Hoang Sa Flotilla and Bac Hai Flotilla took the mission of state management over Hoang Sa and Truong Sa archipelagoes. Those activities were recorded in state documents such as the official documents of the Nguyen Dynasty, documents of local authorities, including certificates, orders, which are stored in the state's archive organs.
Dr. Truc concluded that in this historical period, there was a very important evidence to prove Vietnam feudal state's effective occupation of the two archipelagoes. That is the organization of the administrative unit of Hoang Sa lying within the then state's administrative organisation. Under the Nguyen Lords, Hoang Sa district belonged to Quang Nam or Quang Ngai.
VNA