VietNamNet Bridge – Dr Nguyen Ba Dien, director of the Centre for the Sea and International Marine Law under the Hanoi-based National University, says Vietnam is likely to bring China to international jurisdiction organisations given its violation of international law and provocation in the East Sea.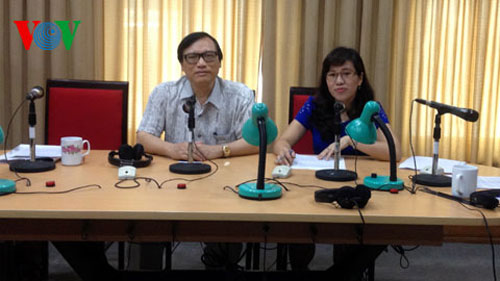 Lawyer Nguyen Ba Dien (L) was invited as a studio guest in a VOV programme about the East Sea
In an exclusive interview granted to VOV, the lawyer examined Vietnam's possibility of using legal actions against China following its illegal deployment of the floating oil rig Haiyang Shiyou-981 deep inside Vietnam's exclusive economic zone and continental shelf.
Following are excerpts from the interview.
What do you think about China's recent actions in the East Sea?
Dien: It is obvious that China seriously violates basic principles of international law, including the UN Charter, the 1982 UN Convention on the Law of the Sea (UNCLOS), the 2002-ASEAN-China Declaration on the Conduct of Parties in the East Sea (DOC), as well as bilateral agreements signed by senior Vietnamese and Chinese leaders.
China flouts Article 1 of the UN Charter which reads "to maintain international peace and security, and to that end: to take effective collective measures for the prevention and removal of threats to the peace, and for the suppression of acts of aggression or other breaches of the peace, and to bring about by peaceful means, and in conformity with the principles of justice and international law, adjustment or settlement of international disputes or situations which might lead to a breach of the peace".
It also infringes Article 2 of the UN Charter which says "All members shall refrain in their international relations from the threat or use of force against the territorial integrity or political independence of any state, or in any other manner inconsistent with the Purposes of the United Nations."
Do you agree with a number of experts who say it's high time for Vietnam to bring China to an international arbitration court?
Vietnam has no choice but to use legal actions against China. China's actions are apparently illegal when referred to international law and the Vietnamese Law of the Sea. Their ambition and claim are groundless, and China seems to play by their own rules.
The essential point of China is that it has no legal grounds to justify its behaviour and ambition in the East Sea. That's why China refuses to pursue a suit in any international jurisdiction organisations.  
Vietnam can bring the case to any international organisations, for instance the United Nations, the UN Security Council, or the UN Secretariat. It can also sue China in any international jurisdiction organisations, the International Court of Justice for instance.
Although China refuses the jurisdiction of the International Court of Justice, Vietnam can sue China unilaterally.
What are Vietnam's advantages and disadvantages in this possible lawsuit?
Our biggest advantage is that international law, from the UN Charter to the 1982 UNCLOS, DOC and Vietnam-China agreements, is on our side.
We have to take into account mounting pressure created by China because this is a political, military and economic power.
What kinds of documents you think are necessary for the possible lawsuit?
We need to make a thorough preparation for the case, considering persuasive arguments and necessary procedures, and domestic and international legal experts will decide on how to use this legal tool effectively.
An important thing is that we need to have a specialised body that brings together leading legal experts responsible for the case.
Who would be the plaintiff in the lawsuit?
I think that is the Vietnamese government or someone or an agency authorised by the Vietnamese government.
What can Vietnam learn from the Philippines in a similar case against China over sea disputes?
The Philippines sued China under Annex VII of the 1982 UNCLOS. We should learn from the Philippines experience, from preparations, procedures and expertise gathering. We even collaborate with the Philippines in the struggle to defend our sovereignty in the East Sea.
At the recent World Economic Forum on East Asia 2014 in the Philippines, PM Nguyen Tan Dung stated that Vietnam will not barter for unrealistic and dependent peace and friendship. What do you think of his statement?
I think his speech demonstrates strong determination and expectations of nearly 100 million Vietnamese people. Vietnamese people cherish peace and want to develop friendly ties with China.
However, China tells a lie; it does not want peace and friendship in a genuine sense. Legal actions will be the last resort in this case.
Can we unilaterally sue China? And is the court's ruling is valid?
We have the right to bring China to justice unilaterally. We believe justice is on our side, because we have legal and historical grounds to assert our sovereignty over the two groups of archipelagos in the East Sea.
What will we do if China pays no heed to the case and keeps installing its oil rig in Vietnam's waters?
If the court rules that China violates international law and it fails to observe the ruling, it [China] will be a law-breaker and draw fire from the international community.
In other words, it will be China's political failure internationally, and it will be confronted with risks in international political and economic relations.
Thank you.
VOV/VNN